Friday, July 13th, 2018 at 5:29 pm by Dan Musick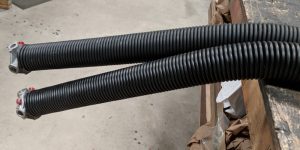 We are frequently asked, "Why is one of my garage door springs slinky and the other tight?" Or, "Why is one spring stiff and the other loose?"
The answer lies in the pitch of the spring wire. When a spring is coiled the wire is normally wound at a 90-degree angle from the spool or rod around which the wire is wound. In the door industry there are no hard standards for this 90-degree angle, and, as a result, it varies slightly with every spring.
In reality, from a theoretical view, no two springs are wound exactly the same. One will always have a slightly different pitch. The end result for the customer is that one spring may be perfectly straight when held by one hand in the middle; the other spring may form an upside down "U." While this may appear to be a problem, a tight spring always has the identical torque rating as a loose spring.
Should I be concerned? No. But here are the answers to your questions.
I hope this helps.