Posted June 17th, 2023 at 11:11 am by Philip Kendall
Garage door pulleys are part of the counterbalance system for extension spring doors. Most doors have four pulleys, or two on each side. There are two stationary pulleys, and a pulley attached to one end of each extension spring. Garage door pulleys are not the same as cable drums, which perform a similar function on garage door torsion spring assemblies. In this blog post, we will discuss how garage door extension spring pulley systems work, what to do when they break and where to get replacements.
Extension Spring Pulleys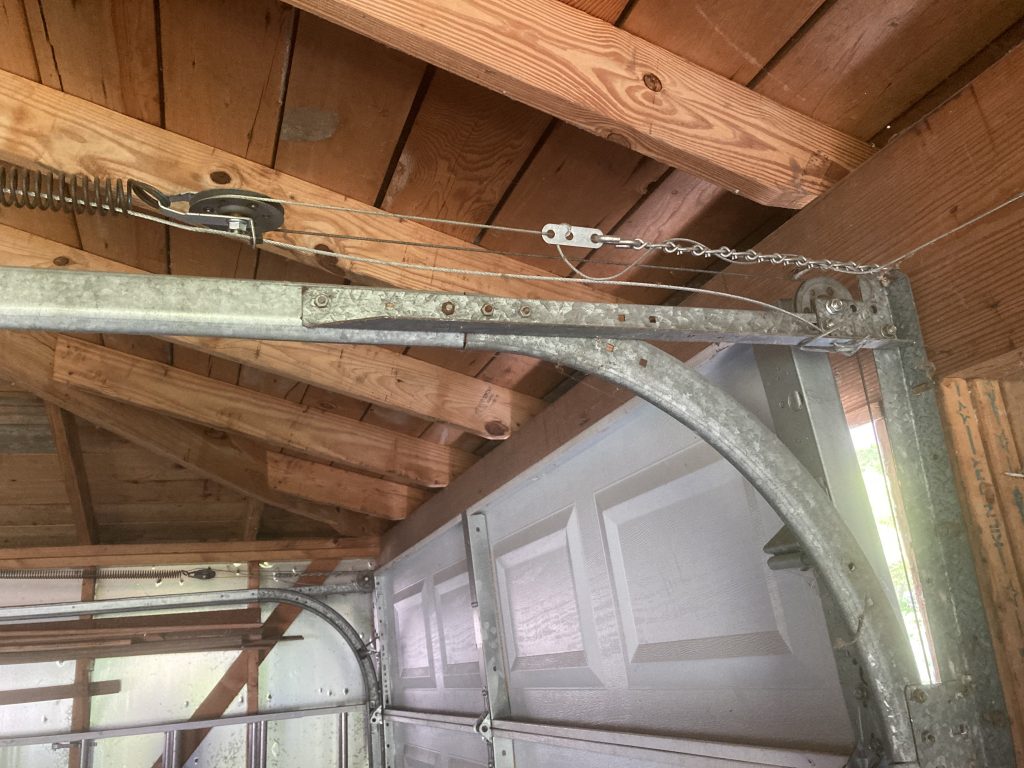 Extension spring systems work by stretching the springs as the garage door closes. When the door reaches the ground, the stretched extension springs counterbalance the weight of the door so that it can open easily. The garage door pulleys hold the cables that connect the extension springs to the door.
More information about extension spring systems in general is located on our sectional garage door extension springs page.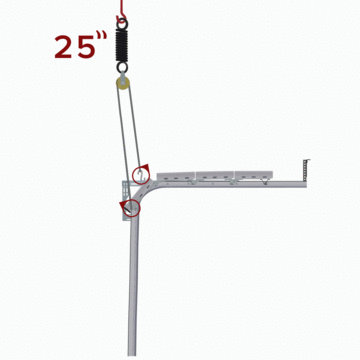 As the door opens and closes, the pulleys rotate as the cable travels through them. Most garage door pulleys are made of two pieces of sheet metal with ball bearings sandwiched inside. The ball bearings allow the pulleys to turn freely, smoothing the operation of the door.
Low Headroom Pulleys
Some low headroom torsion spring doors have their torsion springs installed at the back of the door. These doors use a pulley to connect the cables to the bottom fixtures, much like on extension spring doors.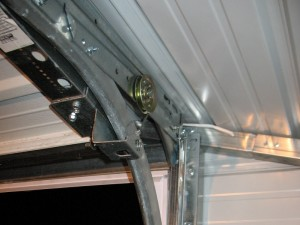 Broken Pulleys
There are several symptoms of broken garage door pulleys. In some cases, the door opens partway and then stops. The door will often not sit evenly on the ground when closed, and scraping sounds can accompany the pulley operation. A broken pulley can be one of the most challenging garage door problems to identify.
The two most common ways garage door pulleys break are when the ball bearings break or the rivets fail. If the ball bearings wear down, the pulley will start scraping against the track angle. When the rivets fail, the pulley will split, as shown in the image below.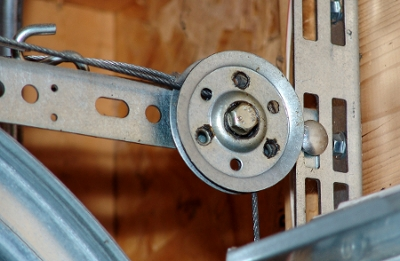 If you need to replace your garage door pulley, you can follow instructions on our extension spring pulley replacement tutorial. Replacing broken pulleys is a relatively simple process. The most important thing to remember is to make sure the door is open and fully supported while you are working on it. Extension springs hold little to no tension while the door is open. When the door closes, however, they contain a lot of tension, which makes them extremely dangerous.
Replacing Garage Door Pulleys
You can find replacement pulleys in the extension spring hardware section of our online parts inventory. We offer pulleys in three sizes: 3″ diameter, 4″ diameter, and 5″ diameter.
Standard 3″ garage door pulleys are rated for 10,000 cycles on 8′ high 100-pound doors. That is, an 8′ high door should be able to open and close 10,000 times before the pulley breaks. Heavy-duty 3″ pulleys are rated for 200-pound doors. As a result, they last twice as long as standard pulleys in the same applications. If you have 3″ pulleys and want to replace them, buying heavy-duty pulleys should usually double the amount of time before the next pulley breaks.
Standard 4″ garage door pulleys are rated for 35,000 cycles on 12′ high 200-pound doors. In other words, they are significantly stronger than 3″ pulleys and last much longer. We also have 4″ stud pulleys, which have a 9/16″ bolt pre-installed. Their rating is identical to standard 4″ pulleys. Unfortunately, we do not have heavy-duty 4″ pulleys.
Five Inch garage door pulleys are generally used for low-headroom doors. They have a pin on each side to match low-headroom hardware. The 5″ pulleys have the highest ratings of all, with stamped 5″ pulleys rated for 100,000 cycles on 1,000-pound doors. This is 100 times stronger than standard 3″ pulleys.
We also offer 3″ cast iron pulleys and 4″ cast iron pulleys, as well as 5″ cast iron pulleys for low headroom doors. Unlike standard garage door pulleys, cast iron pulleys are made of a single piece of solid metal. As a result, they are much stronger and can last much longer. Some cast iron pulleys can outlast the entire life of the door. The one downside is that they are all several times more expensive than their sheet metal counterparts. However, if your garage requires extra durability they can be worth the price.
---
If your garage door extension spring system does not have them already, we recommend installing extension spring safety cables. All our pulleys and other extension spring products are available on our extension spring hardware page. We also have a variety of torsion and extension springs on our garage door springs page. If you need any help with replacing your extension spring pulleys, feel free to contact us for assistance.
This entry was filed under How Garage Doors Work, Products. You can follow any responses to this entry through the RSS 2.0 feed. You can skip to the end and leave a response. Pinging is currently not allowed.
---