Posted May 25th, 2023 at 12:28 pm by Philip Kendall
We've recently updated our automated High Lift Inquiry Form. Now it is easier than ever to get a quote for the cost of your custom high lift kit.
Changes to the High Lift Inquiry Form
We now show the total high lift conversion cost in the "Prices" section at the end of the form, including the cost of an opener and remote controller.
If the program was able to calculate springs for your setup, you have several options for the last step of the inquiry form.
The first option shows the total conversion cost, including estimated shipping and sales tax. If you select this option, the kit will appear directly in your cart. You can then buy the kit from the cart like any other item.

Be careful not to remove the kit from your cart, since the inquiry will reset and you will have to do it all over again.
This option only appears if you are buying a residential high lift kit and entered a viable US zip code.

The second option allows you to buy the kit through a member of our sales team. If you select this option, your inquiry will be recorded and a member of our sales team will contact you within the next day or two.
If you are just checking prices and not interested in buying a kit yet, select the third option. Your information will not be saved, or sent to DDM.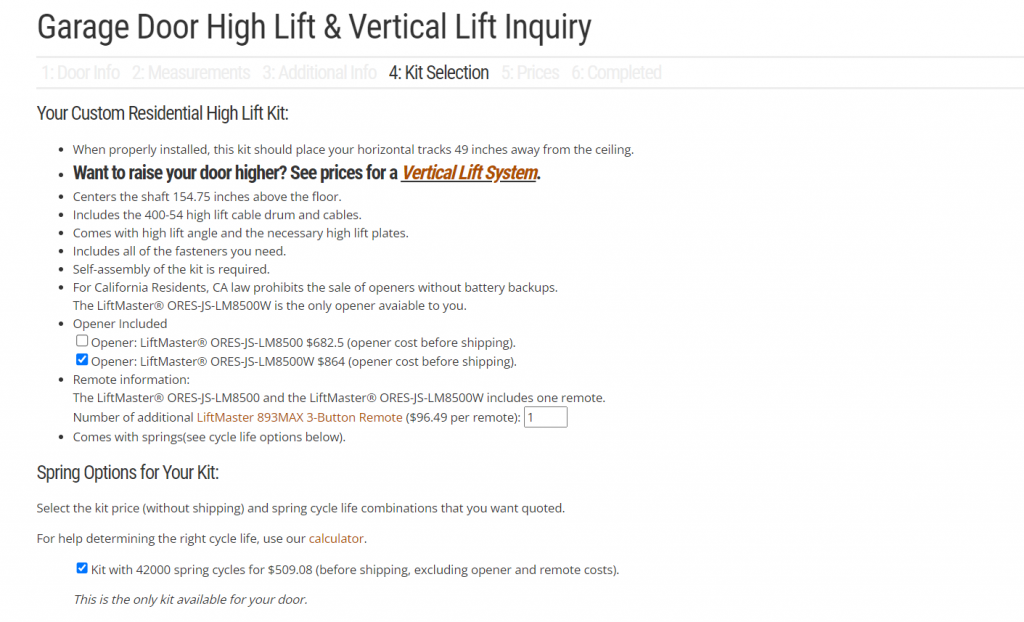 When you order a high-lift kit, we include a printed page with kit-specific information in the package. Make sure you do not throw that page away.
One of our customers posted a video explaining how he installed his DDM high lift kit. You can use this video in conjunction with our DIY High Lift instructions, track assembly video, and the kit-specific information you will receive.
If you have any questions about our updated high lift kit inquiry form, feel free to contact us. We also have a page with High Lift Kit FAQs.
This entry was filed under About DDM, Customer Input. You can follow any responses to this entry through the RSS 2.0 feed. You can skip to the end and leave a response. Pinging is currently not allowed.
---