Posted February 7th, 2020 at 6:10 pm by Dan Musick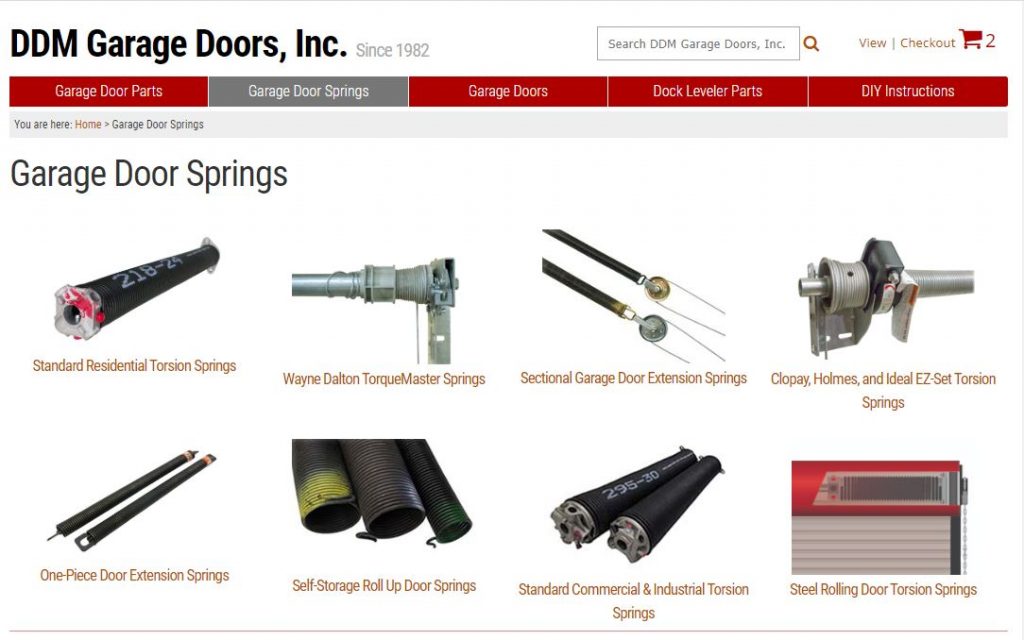 Garage door springs counterbalance the weight of the door making it easy to lift. In this blog, you will find links for replacing springs on any of the common systems.
First, you will need to identify the type of spring you have. The image above taken from our Garage Door Springs page should help you identify your spring system. Below you will find links to tutorials for replacing the different types of springs.
How to Replace Standard Torsion Springs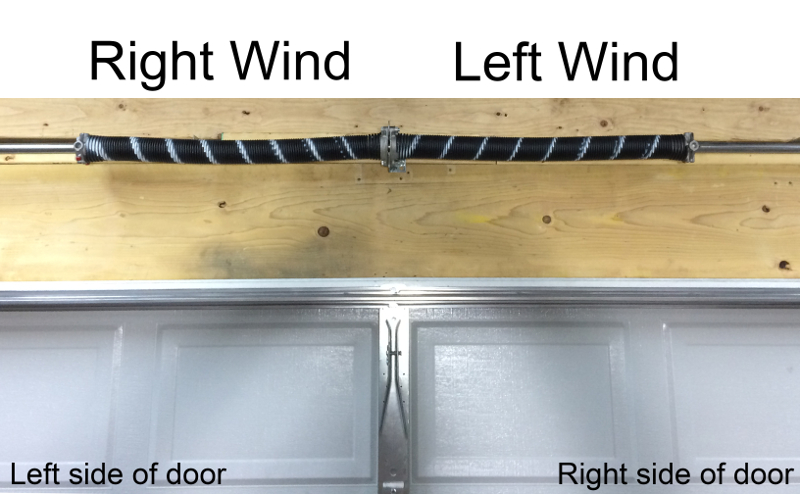 This is the most common type of system on residential doors. On our How to Replace Garage Door Torsion Springs page, we show the steps to follow in order to replace torsion springs on your door. You will first want to make sure that you have the hardware assembly contained in this tutorial before you follow all of these instructions. Some of the steps contained in this tutorial may prove helpful, but other parts may give dangerous, inaccurate directions which could cost you a lot of time and money should you attempt to replace the springs using standard instructions. As always, one needs to exercise caution with this process, as there are many aspects of this that could cause damage or injury if the proper amount of caution is not heeded. If you have a single torsion spring setup and not the two spring setup, please follow our Single Torsion Spring Replacement tutorial instead. If winding your springs with winding bars is a cause for concern for you, you may also want to check out our "How to Install an S3 Winder and Torsion Springs" video for a safer way to install the springs.
How to Replace Commercial Torsion Springs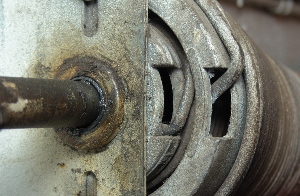 Commercial and industrial torsion springs are very similar to standard torsion springs in a residential setup if they are over the door and are anchored to spring anchor brackets in the middle. The major difference is that these springs tend to have a much bigger inside diameter allowing them to lift heavier doors. However, some of these springs will be duplex or triplex systems, in which there is a spring inside of another spring that helps to lift the weight of the door. This is done so that the length of the spring is able to fit within the span of the door, which can be a problem with heavier doors which typically need longer springs due to their torque rating. If you have duplex springs on your door, follow our Commercial Overhead Door Duplex Torsion Spring Replacement tutorial.
Note: we also have some instructions for large springs on PDFs that provide some nice diagrams to help you during the replacement and install progress. You'll find these near the bottom of our DIY Instructions page.
How to Replace TorqueMaster Springs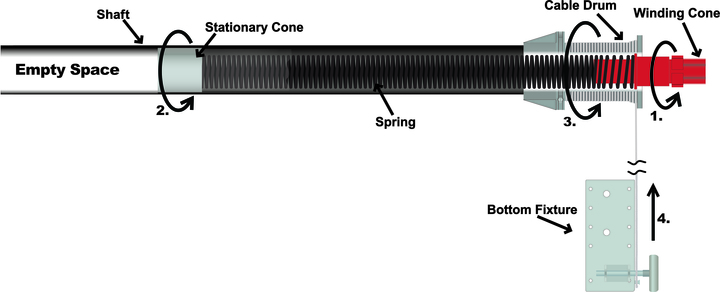 Wayne Dalton's TorqueMaster springs provide a system that is much easier to work with and that provides more safety than standard torsion springs, eliminating some of the risks by enclosing the springs in a tube over the door. There are two types of springs for TorqueMaster: TorqueMaster I springs, which are wound with an electric drill with a 7/16″ socket. These have round winding cones. TorqueMaster Plus springs have hexagonal cones and they are wound with a 5/8″ socket and socket wrench. At our Wayne Dalton TorqueMaster Torsion Spring Replacement tutorial, you will find written instructions along with some GIFs and videos to help you replace springs.
How to Replace EZ-Set Torsion Springs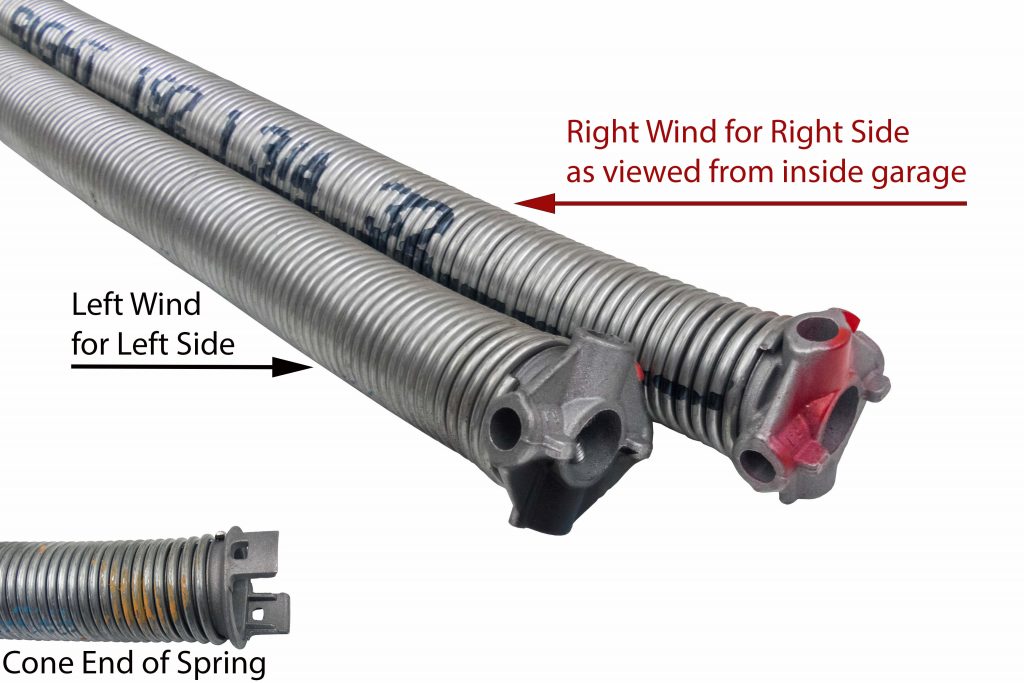 EZ-Set Torsion springs have been supplied by three different manufacturers, depending on the age of the spring. Clopay, Holmes, and Ideal Door have all made EZ-Set springs over the years. Now, all the EZ Set springs are made and distributed by Clopay. These springs look similar to the standard torsion springs but they are set up differently on the door. If you're looking for instructions on how to replace these springs, follow our Single EZ-Set Torsion Spring Replacement tutorial, which you can use on both single spring and two spring setups.
How to Replace Standard Extension Springs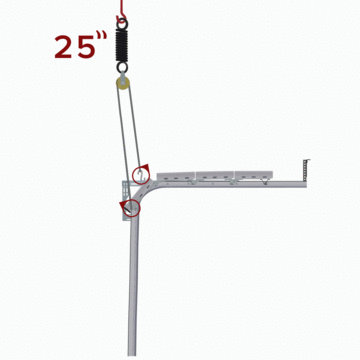 Extension springs are a fairly straightforward system to use on a garage door. They hook up to a pulley system with cables so that they can lift the weight of the door as it is going up, providing a good counterbalance system. For your safety, heed the words in the How to Replace Garage Door Extension Springs tutorial in order to ensure your safety with this system. Extension springs can be one of the most dangerous setups for springs if one should break. Always stay out of the path of extension springs when the garage door is operating or when the door is closed; assume the cable or spring could break at any moment and the spring fly off and hit you.
How to Replace One-Piece Garage Door Extension Springs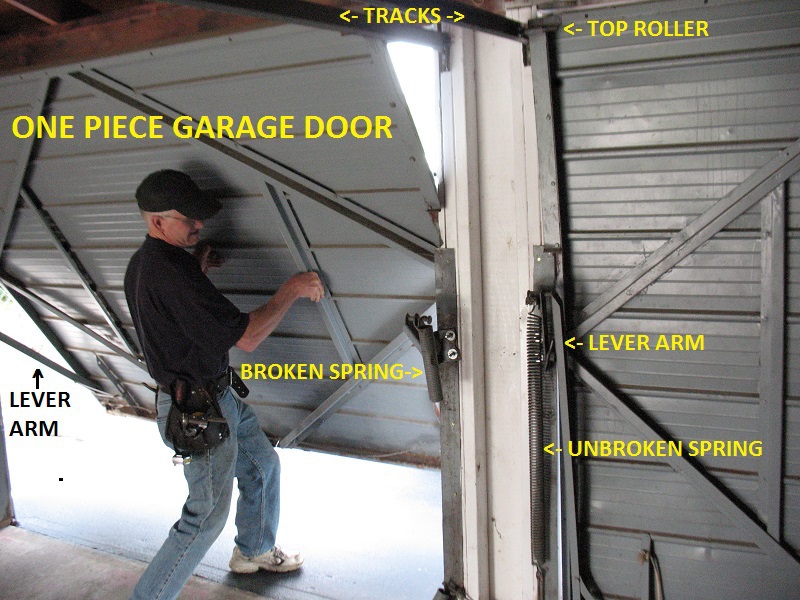 One-piece garage doors have a different system than sectional garage doors, and they do not work the same. While on sectional doors the springs are mounted above the door, one-piece doors have the springs on the side of them, with a lever arm helping the spring lift the weight of the door. To replace these springs, follow our One Piece Garage Door Extension Spring Replacement, and you will find that it is a fairly quick fix.
How to Replace Self-Storage Door Springs
Self-storage door springs look somewhat like standard torsion springs. They are normally shorter, often as short as six inches, but they have bigger inside diameters. On these doors, the curtain wraps around the springs on the drums. If you check out our "How to Replace Torsion Springs on a Self-Storage Roll-up Door" tutorial, you'll discover how to replace these springs on one of these smaller doors. If you would rather watch a video on how to complete this replacement, check out our How To Replace Self-Storage Roll-Up Door Springs video.
If we can ever help with parts or technical support just contact us.
This entry was filed under Another Way to Replace Garage Door Cables. You can follow any responses to this entry through the RSS 2.0 feed.
---