Posted August 31st, 2018 at 1:53 pm by Dan Musick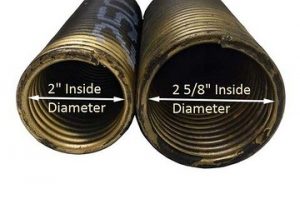 There are a number of applications where a different inside diameter is needed. Our Torsion Spring Inside Diameter Converter page should help.
For example, older springs often have obsolete hardware or cones.
There are also times when shorter springs are needed to fit in a limited space as often occurs when installing longer life springs or high lift door springs.
A third application would include times when springs with different inside diameters are available, and you want to know if an available spring will work.
The fourth situation is to save on the cost of the end cones. Mass produced cones cost less than many of the OEM cones.
This entry was filed under News, Technical Support. You can follow any responses to this entry through the RSS 2.0 feed.
---