Posted August 24th, 2018 at 2:07 pm by Dan Musick
When the end bearing plate of a garage door is not properly secured, it is common to see the end of a shaft wear. Left unattended, the end bearing plate can remain pitched, and the bearing can cut off the end of the shaft.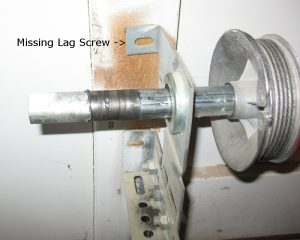 Seizing of the End Bearing
Sometimes the end bearing will seize and cut off the shaft. A customer recently emailed us explaining that the left end of his shaft had broken.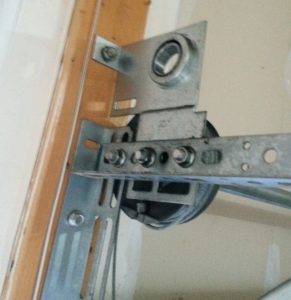 As a result, the end of the tube was hanging lower than normal. The cable came off the drum, and the left side of the door hit the floor, but the right side of the door would not close.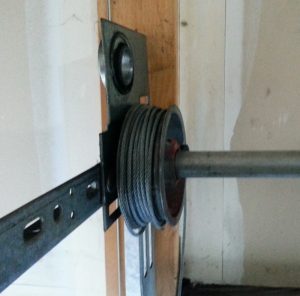 Several years ago, I ran into a similar problem with an ADH bearing that had seized. I was unable to close the door without bending the right vertical track, so I opened the door and reinstalled the cable on the drum.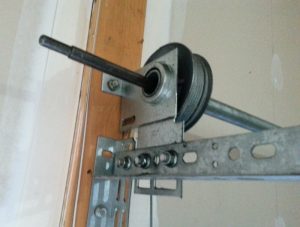 Replacing the End Bearing Plates
Then I supported the door, and I raised the drum to its normal position. This was easy to do because there was hardly any tension on the springs and cables. Then I inserted a winding bar through the bearing and into the shaft. This allowed me to close the door without bending the tracks.
The door did not need a new shaft because the end of the shaft was not broken. I unwound both springs, loosened the cable drums, and I slid the shaft left about two inches. I also replaced the end bearing plates.
This is dangerous work for most homeowners. Therefore, we recommend carefully following the necessary steps in our Torsion Spring Replacement Instructions. In addition, you can view our YouTube video titled, "How To Replace Garage Door Torsion Springs."
On that page, we also recommend replacing your end bearing plates if they have a mark of the letters "ADH." These were part of a huge batch that came out of China several years ago. To replace these, you may find our End Bearing Plate Replacement instructions helpful.
This entry was filed under Technical Support. You can follow any responses to this entry through the RSS 2.0 feed.
---