Posted October 13th, 2017 at 6:12 pm by Dan Musick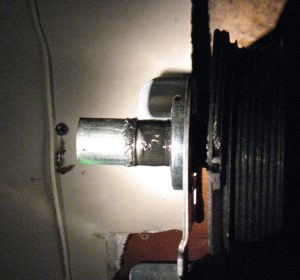 For shafts to turn properly inside the end bearings, the end bearing plate must remain plumb. An unsupported plate can lean, causing the bearing or shaft to wear. Often a worn bearing will wear completely through the shaft. This causes the shaft and drum to drop and the garage door to no longer be level.
Supporting Flat End Bearing Plates
Many of the bearing plates are flat, and the horizontal track angle was not strong enough to support the plate, so add an additional angle. Here the bottom of the angle bolts to the horizontal angle, and the top wedges into the jamb.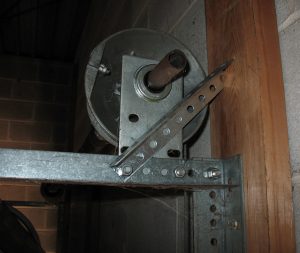 Another way to support a flat end bearing is the top of the flag bracket. On this door, the drum was scraping the top of the flag bracket.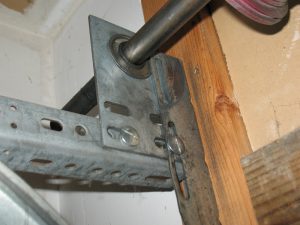 The simplest solution, without adding any angle, was to re-position the end bearing plate. Make sure that the flag bracket supports the outside of the end bearing plate. Doing this may require moving one of the drums.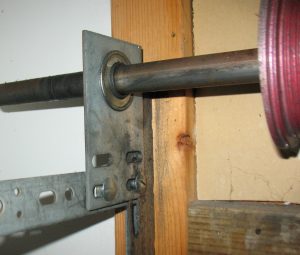 Another way to support a bracket on 12″ radius tracks is by wedging angle between the horizontal angle and the top of the flag bracket.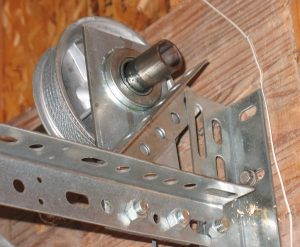 The support angle also bolts at the top and bottom.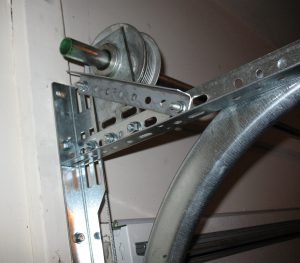 Spring Anchor Bracket
One of the better inventions in the door industry for residential doors was the spring anchor bracket. This bracket has an added edge that can secure to the jamb. Therefore, on 12″ radius tracks, the top of the flag bracket supports the bracket. The top hole allows for an optional bolt. However, there is no need for this on 12″ tracks if the cable drums proper installation touches the races of the bearings.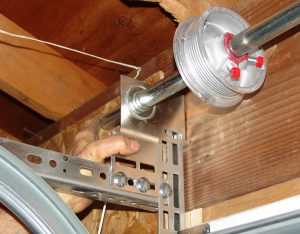 On 15″ radius tracks, however, the top of the bracket must be secured. Normally a single 5/16″ X 1 5/8″ lag screw is needed, as shown here.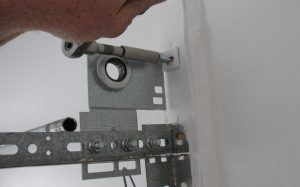 Sometimes, there is a need for additional support, as you see here where the top edge did not reach the jamb.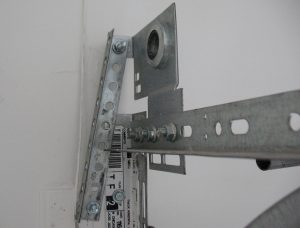 On one job, a recessed I-beam prevented the normal installation, and the angle was run from the horizontal angle to the board on top of the beam.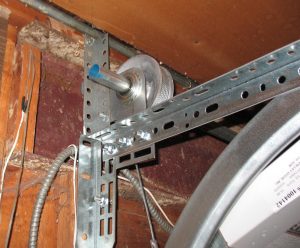 Here is another solution for adding an angle because the top edge of the bracket was above the header.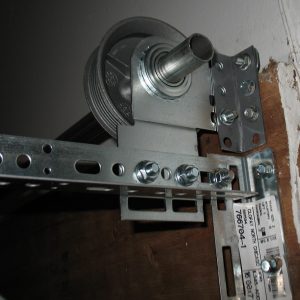 This entry was filed under Technical Support. You can follow any responses to this entry through the RSS 2.0 feed. You can skip to the end and leave a response. Pinging is currently not allowed.
---