Posted October 6th, 2017 at 2:23 pm by Dan Musick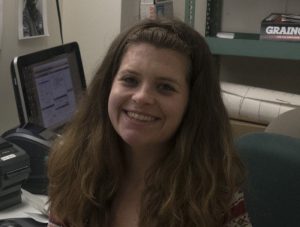 In an earlier post, we mentioned Jorie's and Neal's wedding. Neal is our warehouse manager, and Jorie has helped here with personnel matters. This includes completing a company policy manual that had been started several years previously. She also helped to see that the orders got to their intended destinations.
At the time, she had just finished her education. After a little time to get settled and to look for a career in her field of study, she is embarking on a career in human resources in the corporate offices at Aldi Foods.
As part of her going away celebration, we brought in scrumptious fresh cooked pot pies from Pie Boss. Whereas, the owner there is the worship leader at Neal's and Jorie's Faith Bridge Church.
In the card, we gave her I let her know I trust her husband, Neal, will keep me apprised of all Jorie's achievements. We expect to hear great things about her.
Best wishes, Jorie. We're all proud of you!
This entry was filed under About DDM, History, News. You can follow any responses to this entry through the RSS 2.0 feed. You can skip to the end and leave a response. Pinging is currently not allowed.
---