Posted September 29th, 2017 at 4:49 pm by Dan Musick
Most garage doors consist of sections that are connected with hinges. The end hinges and fixtures have rollers to allow the door to roll up into the tracks.
History of Garage Door Section Construction
In the early decades of door construction most sections were made of wood. There were four main types.
Wood Flush Sections

These sections had exterior skins of hardboard or thin plywood that was glued to internal rails. The surface was kept uniformly flat with styrofoam strips.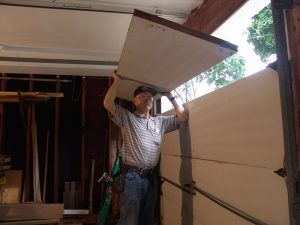 Fully insulated flush sections were also made, but the temperature difference between outside and outside often caused the sections to bow.
Masonite Panel Sections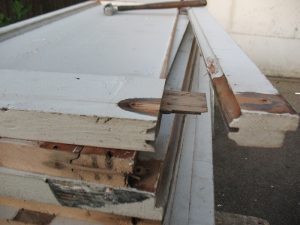 These sections consisted of horizontal rails and vertical stiles that were pinned, glued and nailed together. Inside these components were grooves that held the hardboard or plywood panels.
Wood Panel Sections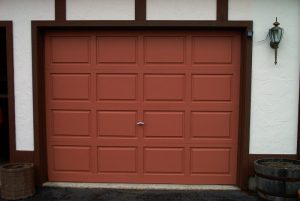 These were designed like the hardboard panel sections, but the panels were made of redwood or fur. As the redwood trees in California diminished the cost of panels increased and soon were no longer available.
Cladwood Sections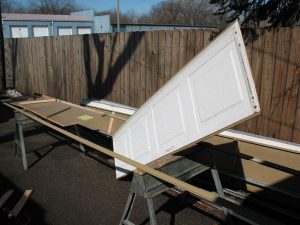 These sections were developed in the 80's to replace the wood sections that rot and delaminate. Cladwood doors were made of a resilient wood chip product that could be molded to imitate the raised panel design. The material would not rot. These panels were held in place by metal rails on top and bottom. Vertical stiles helped tie the sections together as well as providing material for installing the hinges.
Steel Sections
There are two basic types of steel sections. Pan doors were made of rolled steel with the skins secured to stiles which allowed for installing hinges.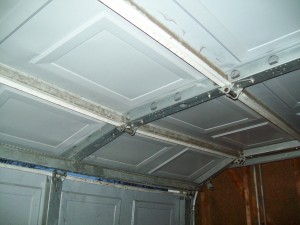 The more popular sandwich doors like the one pictured below have higher insulating R-values.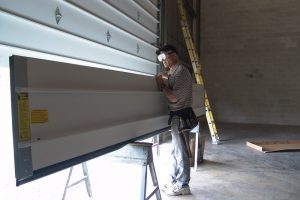 A third type of section is found when a surface is added to the exterior of the door. This is the construction of the popular carriage house doors. This exterior surface is glued and screwed to wood or steel sections.
How to Make Wood Replacement Sections
Manufacturers stopped making wood sections about 10 years ago. The only option for replacing a section is to replace the entire door with a steel door.
There are, however, those experienced carpenters who are perfectly capable of making sections.
Many years ago one of my customer needed sections for a type of door that was no longer made, and which had to match the adjacent door.
Here's how I made the door.
First I made an inside frame out of 1 X 3 lumber. To the frame I glued and screwed outer skins of 1/8″ lauan plywood. Then I routed the edges for the meeting rails. Adding styrofoam will help with insulation as well keeping the section skins smooth.
Here is a picture of a similar door that Andy Hodenius made a number of years ago.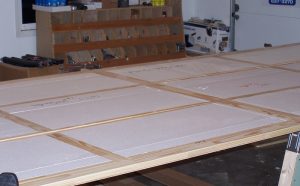 More information is on our garage door sections page.
This entry was filed under History, Technical Support. You can follow any responses to this entry through the RSS 2.0 feed.
---