Posted January 11th, 2023 at 4:37 pm by Philip Kendall
When a garage door has been damaged, often only one or two sections need replacing. In this video, Dan demonstrates how to replace a single section of a garage door.
Preparation
You will need come-alongs and at least three vise grips, as well as more common equipment like a ladder and power drill. This job is much safer and easier when done with at least two people.
Start by raising the ladder.
Raise the door about six inches
Attach come-alongs on each side of the door, to support the lower sections.

Attach the hook on the cable side to the track angle.
Then, attach the hooks on the ratcheting side to the hinges of the section above the one you wish to remove.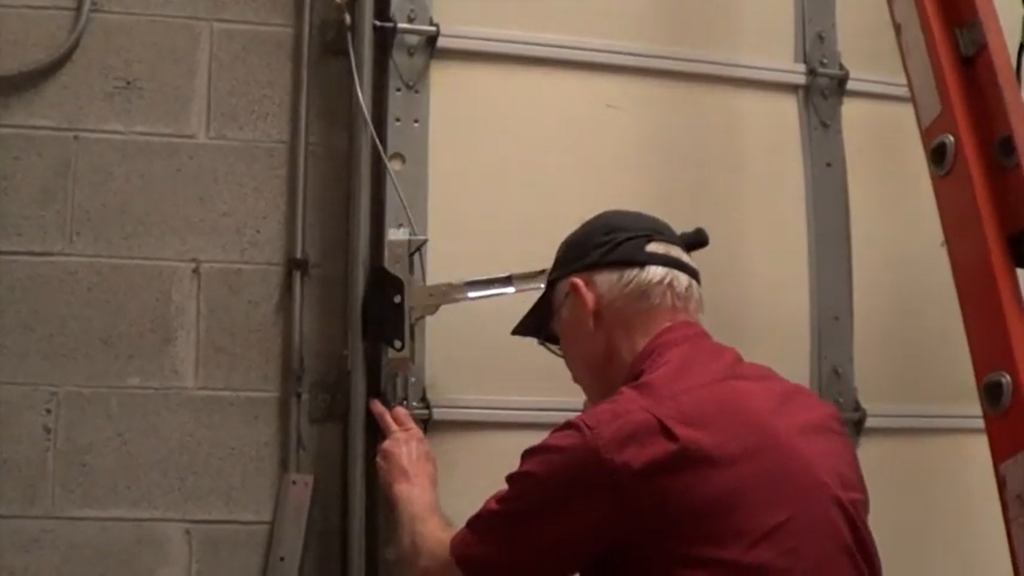 Secure a vise grip to each cable, in order to prevent them from detaching from the bottom fixture.
Attach a third vise grip to the track, to prevent the section from falling towards you.
Removing the Section
Using a 7/16″ socket and power drill, remove the screws attaching the section to the upper hinges. Leave the lower hinges for now.
Climb the ladder. When you reach the top, lock your leg in the steps of the ladder for a more secure position.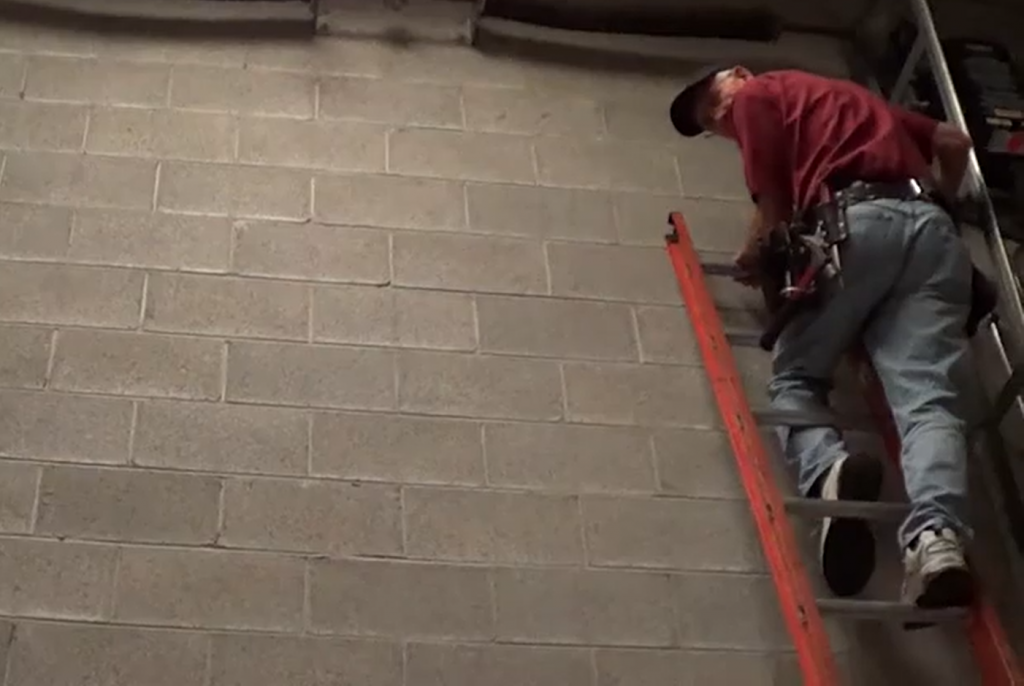 Next, wind the door one quarter-turn. Make sure to keep your head out of the path of the winding bar.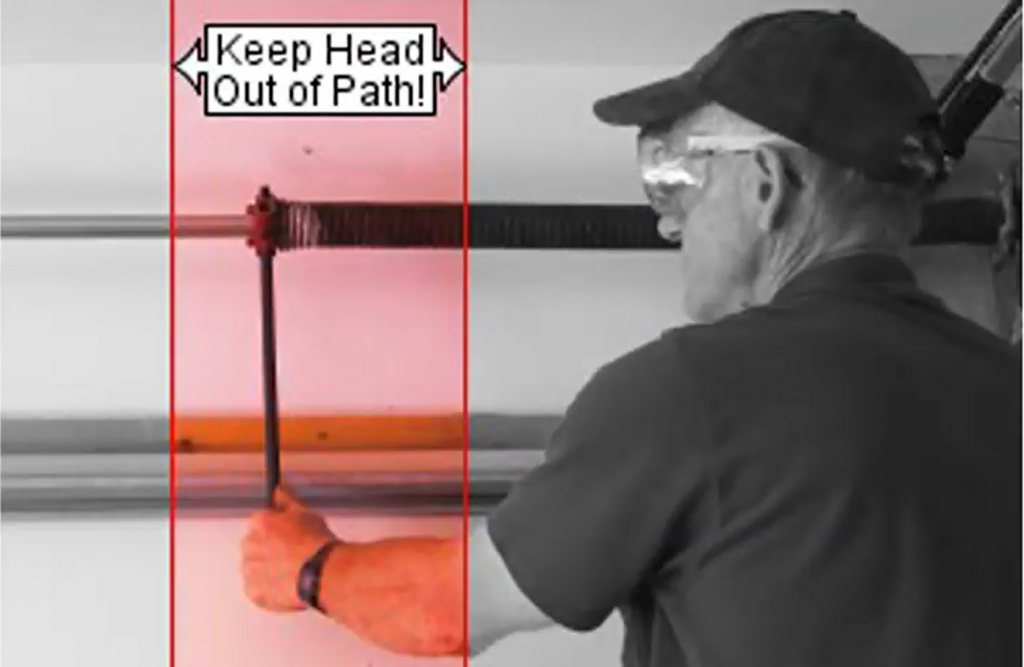 Since you disconnected the hinges, this will cause the bottom section to drop. The section supported by the come-alongs will remain stationary.
In the event that one of the come-alongs becomes dislodged, simply reattach the hook and tighten the ratcheting mechanism.
Next, remove the bolts attaching the section to its lower hinges.
Remove the vise grip from the track.
Then, remove the section.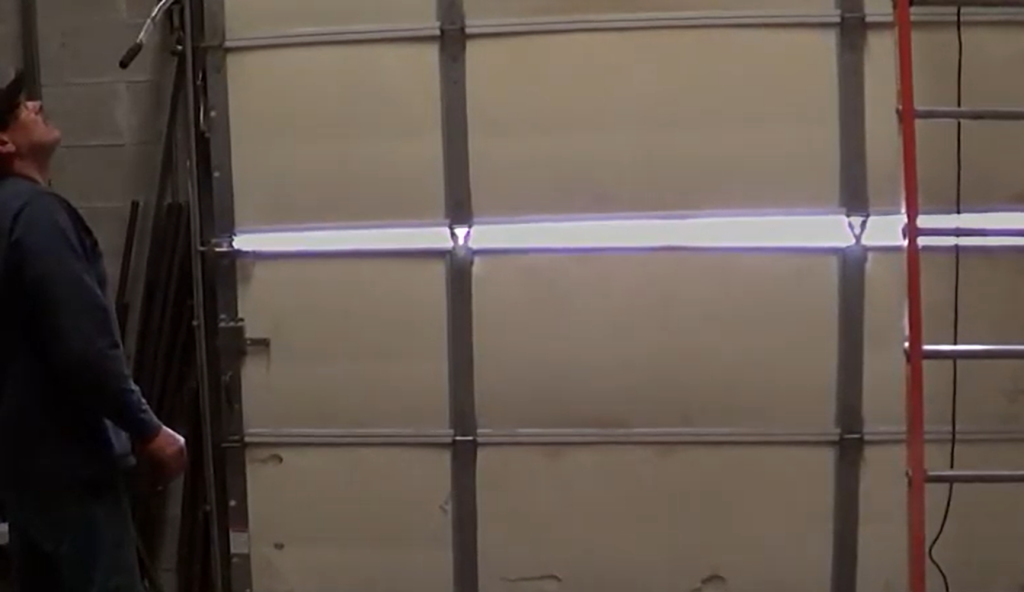 Installing the New Section
After having removed the old section, replace it with the new section. This is one place where it can be helpful to have two pairs of hands.
Reinstall the bolts attaching the section to the bottom hinges.
Once the bottom of the section is secure, climb back up the ladder. Then, remove the quarter-turn from the springs.
At this point, it may be helpful to have someone on the ground using a thin board to maintain the alignment of the sections.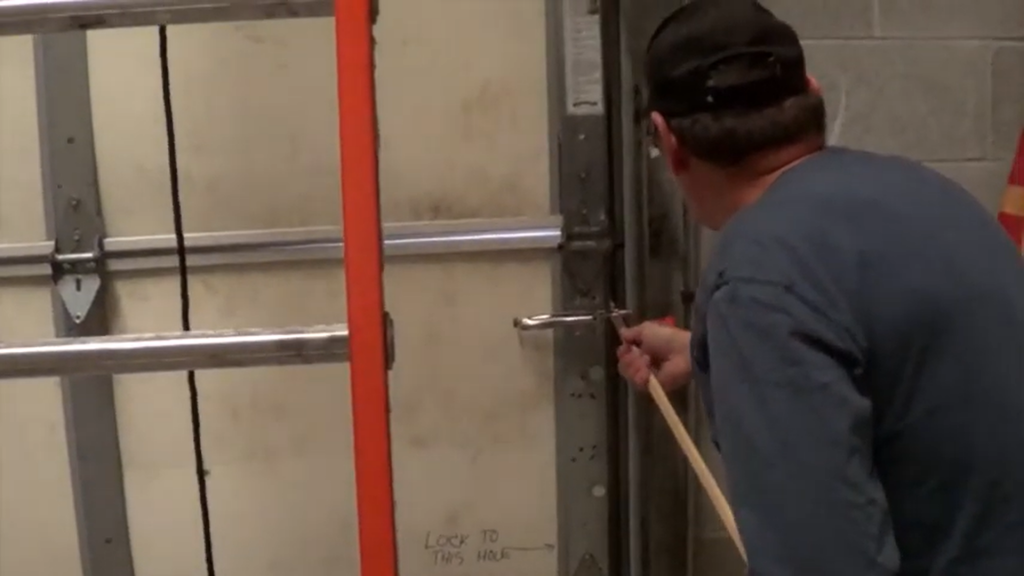 Descend the ladder. Once the sections are aligned, use the power drill to reattach the top hinges.
Finally, release the ratcheting mechanism of the come-alongs, and remove the come-alongs.
We hope this has been helpful! For more detailed instructions, see our tutorial on removing the bottom section of a garage door.
This entry was filed under Products, Technical Support. You can follow any responses to this entry through the RSS 2.0 feed. You can skip to the end and leave a response. Pinging is currently not allowed.
---