Posted April 30th, 2015 at 4:03 pm by Dan Musick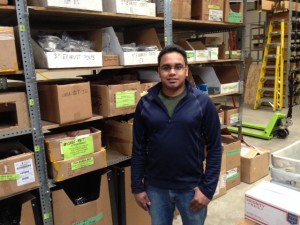 Neal Secker forms an important link in the supply chain for DDM Garage Doors to local customers, North America, and the world.
Neal serves Christ as a warehouse manager at DDM. His primary responsibility is to oversee and participate in the daily operations of the warehouse. This includes inventory management, spring coning, product preparation, wrapping and packaging, and special crating projects. Furthermore, with DDM's growing product catalog, his job scope expands all the time.
Working in conjunction with Dan and Jean Musick, Jim and Andrew in technical sales, and Jane in New Markets, Neal readies double-digit package counts virtually every day for UPS and USPS. Sometimes much more on Mondays. The work is hard – but Neal and his team are enthusiastic and up to the challenge.
Key Shop Members
Dave and Daryle are key shop members. Dave cuts the springs and prepares cable and other parts to required specifications throughout the day. When the late afternoon rolls in, activity heats up in the warehouse. Items must be weighed, labeled, and posted properly. Daryle comes in and helps the warehouse get all the shipments ready for pickup. All leave after completing a cache of packages overseen for quality control at every step, ready for the carriers' pickups.
Dan Musick helped cast a special quality vision for Neal: "If this were easy, everybody would be doing it." Therefore, with every package, Neal has learned to apply this maxim. Products such as standard torsion springs, TorqueMaster springs, extension springs, hardware, and rollers are heavy and hard and do not naturally lend themselves to enclosure. But Neal and his team strive for balance in providing customers with the most economical shipments possible while ensuring package safety.
DDM Standard Torsion Springs Inventory
With Neal at the helm, "So, whether you eat or drink, or whatever you do, do all to the glory of God" (1 Corinthians 10:31) becomes a reality every day in the warehouse, and the vision is catchy throughout the office.
What can Neal Secker get ready for you?
This entry was filed under About DDM. You can follow any responses to this entry through the RSS 2.0 feed. You can skip to the end and leave a response. Pinging is currently not allowed.
---