Posted May 14th, 2015 at 7:29 pm by Dan Musick
I've been working in the garage door business for over 36 years. It wasn't until a few years ago that one of my employees explained to me how mechanical dock levelers work. It's taken many months, many videos, many graphics, and a lot of animation, but in early July, we expect to be posting the completed video on YouTube so professional door technicians and other tradesmen can understand how they work. Furthermore, the outline below is a shadow of what we expect to be our best video yet.
Introduction
Dock Leveler Springs
Extension Spring Systems
Compression Spring Systems
Hold Down Systems
Ratchet
Gear
Clutch
Lip Systems
Counterbalance Components
Snubbing assembly
Lowering Mechanisms
Safety Legs
Therefore, here is the How Mechanical Dock Levelers Work tutorial. Just click the leveler.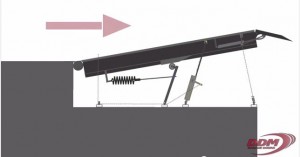 This entry was filed under News, Technical Support. You can follow any responses to this entry through the RSS 2.0 feed.
---