Posted September 7th, 2018 at 5:06 pm by Dan Musick
Since there have been about 20 dock leveler manufacturers over the decades, and since most have unique parts, it is best to begin by identifying the manufacturer of the leveler.
Usually, there is a label to identify the manufacturer and possibly the model.
Sometimes the label is on the front of the frame, as we see here with this Serco Leveler.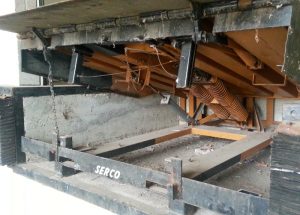 Sometimes the label is along the side of the leveler, as we see on this McGuire leveler.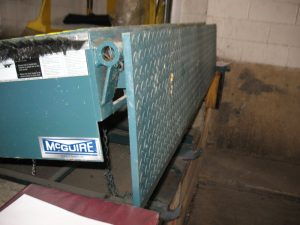 Under some levelers, you can find a tube welded underneath the deck with a manual rolled up in it. There might also be parts with the manufacturer's name under the deck.
If you can't identify the leveler, you can take pictures of the parts you need. Then, please email them to us from our contact page.
Another option in identifying the dock leveler parts is to browse the images on the different pages linked to our Dock Leveler Parts index page.
Our YouTube video titled, "Introduction to the Three Types of Dock Levelers" might also be of interest to you.
This entry was filed under Technical Support. You can follow any responses to this entry through the RSS 2.0 feed.
---