Posted September 14th, 2018 at 2:32 pm by Dan Musick
From time to time, someone with an older one-piece garage door will contact us. As indicated by the spring below, they want to know if we can modify a spring that has one end tapered.

In years past, manufacturing costs were much less, and there were more of these doors. Therefore, it was cost-effective to make large quantities of one-piece garage door springs like these.
Most spring manufacturers wouldn't know how to make a spring like this, and even if they could, the setup fee would cost hundreds of dollars.
The solution?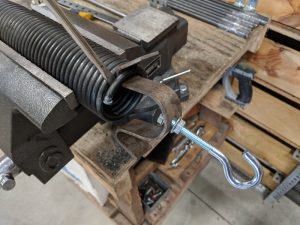 For this type of system, we have recommended that our customers order springs with clips that have holes in them. The people at the factory screw the clip into the end of the spring. If your existing eye bolt is not long, we can provide an eye bolt that is 3 1/2″ long. Most hardware stores carry longer ones if needed.
Therefore, for the old type, one-piece garage door springs look to DDM Garage Doors Inc.
This entry was filed under Technical Support. You can follow any responses to this entry through the RSS 2.0 feed.
---