Posted December 27th, 2019 at 4:58 pm by Dan Musick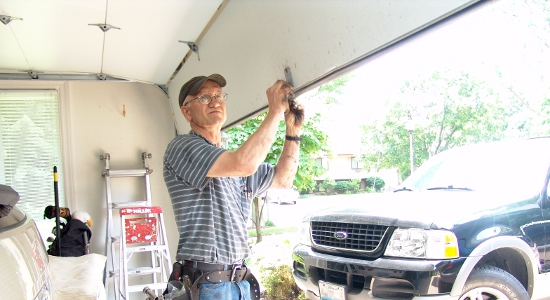 Most people take their garage doors for granted. We go into the garage in the morning, open the door, back the car out, and then close the door before we drive off. It can be a shocking experience when something breaks. On an average day, we don't even give that piece of machinery a second thought. Unfortunately, most people do not consider maintaining their garage door to be a top priority until an issue arises.
Why Garage Door Maintenance is Necessary
Garage door repairs and maintenance can cover a wide spectrum of issues, from very simple maintenance tasks such as oiling your hinges and rollers, to the much more dangerous task of replacing your springs. Anyone attempting to replace springs should take precautions to ensure that they do not put themselves in harm's way. Maintaining your garage door can be necessary due to the opener running rough, the rollers making a lot of noise as the door goes up, or any number of sounds that shouldn't be coming from a garage door. Many of these maintenance jobs are doable for even the most skittish do-it-yourselfer. However, some require some more study and understanding of what you're doing before attempting the repair.
Replacing the bottom seal of your garage door is something you may want to do every few years. You may notice that this seal starts to crack or develop holes, or you may simply see snow in your garage one morning as you get into your car. This is a maintenance job that is fairly easy for the average consumer to do. For step-by-step instructions, see our "How to Replace Garage Door Bottom Seal Weatherstripping" video.
In-House Training Seminars
Repair technicians often come to our warehouse for training. Here is a picture of our facility here in West Chicago. All of these openers were set up so that service professionals would be able to see the wide variety of openers that they may encounter.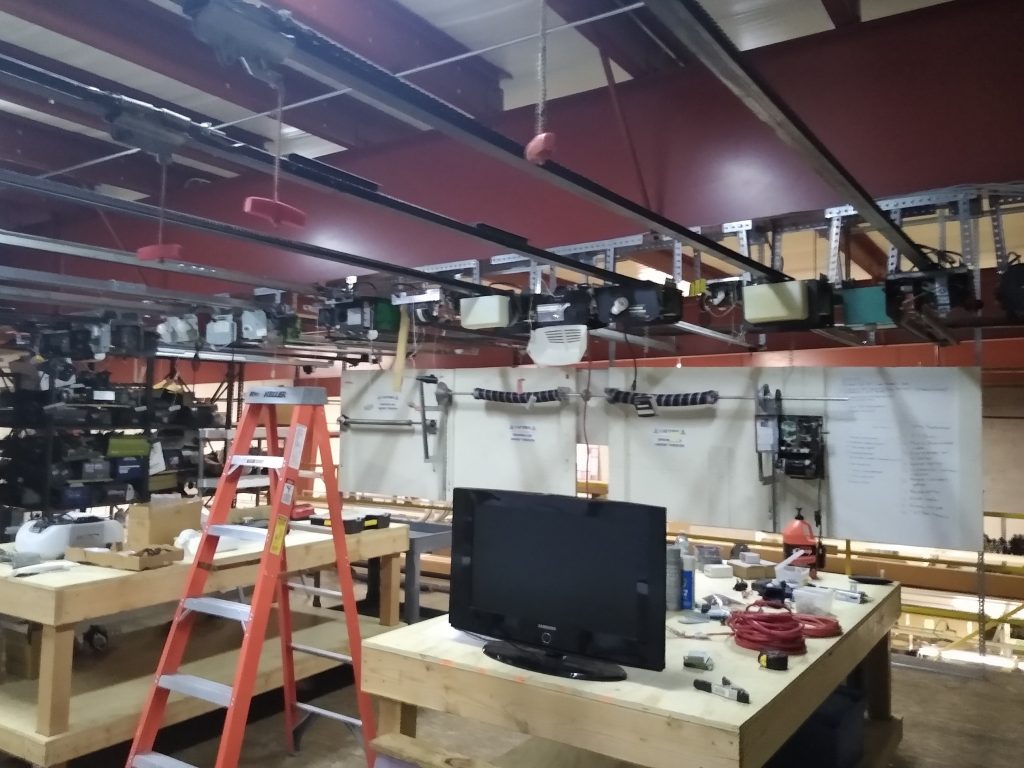 We also have equipment for training on a variety of garage door repairs. On several boards, we display the wide assortment of springs a serviceman may encounter in their line of work. These include components from manufacturers like Barcol, Crawford, Overhead Door, Wayne Dalton, and Raynor. Some of these older spring systems have unique hardware, and the door may also require more hardware to work properly.
We offer training to professionals in the door industry, as well as to maintenance men who will be doing the garage door maintenance and repair for the companies where they work. While we don't offer training in our facility for homeowners, we do have a Do-It-Yourself Garage Door Instruction Library to help you maintain and repair your garage door. Thousands of people view these tutorials each month.
Another helpful tool to use is our Garage Door Troubleshooting page. Here you will quickly diagnose some of the common issues that happen to garage doors, as well as possible solutions.
Garage Door Repair Businesses
We no longer repair doors ourselves because we sold that part of the business to a previous employee in 2015. However, because many homeowners across the country have asked for referrals, we now provide a map listing recommended garage door repair businesses. You'll find contact information for these vetted companies on our Garage Door Repairs page. If you can't find a reliable company in your area, just contact us. We will try to help you find a service company to come and fix your door.
If you need parts to do your own maintenance or repairs, we are happy to provide those to you as well. On our site, you'll find complete Garage Doors, Garage Door Parts, Springs, and Dock Leveler Parts.
Purchasing Garage Door Parts
You can check out our parts page if you need hinges, cables, or other door hardware. Visit our springs page if you need springs to complete your door repair. We sell standard torsion springs, including commercial springs, TorqueMaster springs, springs for Clopay's E-Z Set system, and many other systems as well. We have forms that you can fill out online with specifications of your door. This information can help us find the right springs for you based on weight, height, and other factors. For commercial and industrial applications, we have an extensive list and inventory of dock equipment as well.
We look forward to helping you get your door back up and running. If you have questions about a part, or how to fix an issue that you may be having, just contact us. And, always remember: safety first, then work!
Best wishes.
This entry was filed under Another Way to Replace Garage Door Cables. You can follow any responses to this entry through the RSS 2.0 feed. You can skip to the end and leave a response. Pinging is currently not allowed.
---