Posted September 15th, 2017 at 5:40 pm by Dan Musick
"We help people fix their garage doors."
That was written on the first flier I printed back in 1980.
My plan was to provide training for maintenance personnel to repair their commercial and industrial overhead type doors. This was for the bigger companies in Chicago such as Honeywell and Wrigley, the chewing gum company, but I also did some quite effective training for a smaller company, Volvo / Honda of Lisle, IL.
That part of the company did not grow as quickly as I had hoped, but I did discover that many of the companies needed parts, and even more would prefer to have an outside contractor service and install doors. From there I built a catalog business along with a service and installation company that later became Dortrak which I sold around 1990. Later I started what became DDM Garage Door & Dock Services which was sold and became Matt's Garage Doors. The overhead door training part of the business has always been part-time.
This is one part of our business that I will never sell. I can train men to fix garage doors, but I can't train someone to train others. It carries the highest risk and liability. It's our most challenging service and, because of that, it's also the most expensive. There are men who are qualified to train, but they're tied up with the more profitable task of running the larger traditional service and installation companies. It's hard for me to justify the time away from our bread and butter business, but my greatest incentive is the transition I normally see in the trainees from fear and trepidation to a genuine sense of accomplishment.
Next week I'll provide training for USPS workers in Stamford, CT. A few years ago I trained for the second time the postal workers at the Wallingford, CT facility. The first time I was there I made the mistake of promising to make a manual for the men at no additional cost, and I held off on invoicing them until the notebook was finished. Duplicating the notebook would have cost many times the price they paid for the training.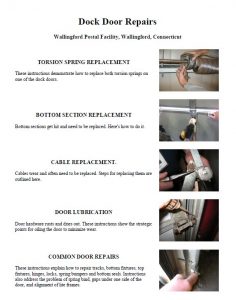 I guess we all live and learn.
This entry was filed under History, Technical Support. You can follow any responses to this entry through the RSS 2.0 feed.
---