Posted September 8th, 2017 at 4:48 pm by Dan Musick
Garage door extension springs stretch as the door closes and contract as the door opens. Also designated "stretch springs," these usually mount above the horizontal tracks, but sometimes they extend beside the vertical tracks.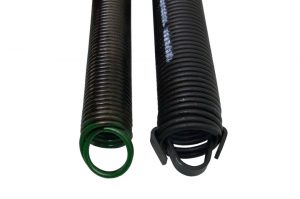 Over the years there have been requests for better springs because customers' existing springs have not lasted as long as they had hoped. Because of this we have begun offering longer life extension springs which last about three times longer than the standard springs.
We achieve longer life in our design by using bigger wire and larger inside diameters engineered to maintain the same pull. We also use clipped ends to extend the life. Open loops and double loops are heated before bending the ends; this often fatigues the metal causing the spring to break prematurely on one end.
One additional factor in producing longer life extension springs is that we have the springs produced in the U.S.A. and only with American made steel. Because of inconsistent quality control standards in China springs made there will often work for a while, but before long the springs don't contract as they should, the door gets harder to lift, and often the cables come loose and prevent the door from closing. The metal doesn't fatigue; it simply looses its tension.
Besides the Chinese manufacturers beware of companies who offer long life or 25,000 cycle springs based on what a supplier may say about their springs. A while back I ordered some of the springs from a supplier and I was surprised to discover they were the same standard cycle springs as offered by other suppliers.
All of the springs come in 10 pound increments and they are in stock for same or next day shipping. For questions please contact us.
This entry was filed under Uncategorized. You can follow any responses to this entry through the RSS 2.0 feed.
---