Posted September 1st, 2017 at 6:34 pm by Dan Musick
Those of us who have been in the business for a while remember the old BarCol doors. This name is short for Barber Coleman.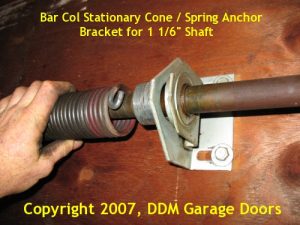 The biggest difficulty we remember is accommodating the incompatibility of torsion hardware. While all the other door companies used 1″ shafts, the early shafts on BarCol doors doors had a 1 1/16″ outside diameter. This spring anchor bracket above identifies the larger shaft, and trying for many hours to get parts to fit on the shaft was part of our initiation into the door business. We filed, we beat, we yelled – all to no avail. We learned to carry 1″ shafts or a 1 1/16″ drill bit to get the standard winding cone to fit.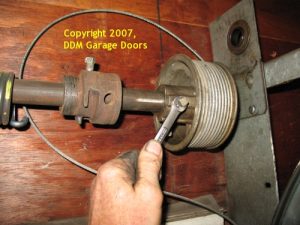 The old BarCol system also used unique 1 13/16″ inside diameter springs that were hooked on the ends. The cones would slide into the cones and hook either the bracket or the raised edges on the cones. The cable drums were also bigger. Many service technicians never noticed the difference and they left behind a trail of heavy doors because of the drums' higher moment arm.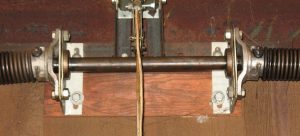 The newer BarCol doors used brackets with 1″ bearings for 1″ shafts. Many of these used the hooked cones, but the new 1 3/4″ standard screw-in stationary cones would secure to these these compatible brackets.

In the early years BarCol also had special rollers that were tied together with hinge straps. As the door closed a plate welded to the curve of the track would catch the top roller and raise the hinge straps.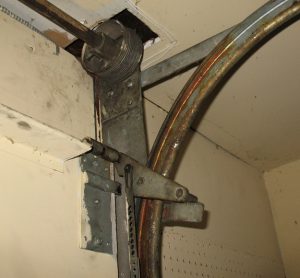 These straps would, in turn, pull the straps and rollers  along the full height of the door to force the ends of the door against the jambs and header.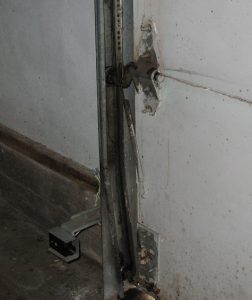 This method of pushing the door against the jambs was designed because Overhead Door Corporation owned the patent to the wedge design that incorporates graduated hinges and pitched vertical tracks.
This entry was filed under History, Technical Support. You can follow any responses to this entry through the RSS 2.0 feed.
---