Posted February 9th, 2018 at 7:01 pm by Dan Musick
Many years ago, I learned a valuable lesson about life: "When life gives you a lemon, make lemonade." A similar expression I heard elsewhere is that "opportunities often come disguised as problems." The lemon – or the problem – is the change in shipping lengths for garage door parts, in particular, our garage door seals.
On our other blog titled A New Day in Shipping 🙁, I explained the extra cost of shipping packages over 96 inches. Until this year, packages over 108 inches had a higher cost. However, now packages with lengths from 96 to 108 inches are more costly.
In the door industry, many of our products are eight feet long, and the extra half-inch or so of cardboard padding multiplies the shipping cost five or six-fold.
Solution for Homeowners
I ran this by Andrew, our sales manager/operations coordinator a few months ago. Together we have come up with a solution for homeowners. To help prevent you from paying the exorbitant shipping fees for eight-foot or longer products, in particular, the weatherstripping. The solution is cutting and gluing.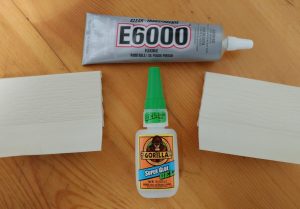 Super glue is super for garage door seals. Hard PVC makes up many of our seals so that they can bond in less than a minute. We recommend the gel type because it stays where you squirt it. It will also bond the flexible part of the seal, but it does tend to stiffen. That won't normally be a problem, but if it does, we recommend the E6000 glue.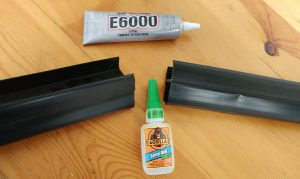 The E6000 glue bonds the vinyl well, especially on the soft twin contact bottom seals. The major consideration with this glue is that it can take a day or so to dry and bond. You will need to leave your garage door partially open for up to two days. While this may be inconvenient, paying exorbitant shipping costs is likely more costly in time and money.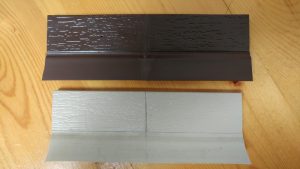 Here is an example of how the products look when they have been glued. On the lighter color, a little caulk or filler might help with aesthetics. Also, if you are further interested, you can watch our YouTube video titled, "How to Replace Garage Door Bottom Seals," or read our blog post on the different types of garage door seal.
This entry was filed under News. You can follow any responses to this entry through the RSS 2.0 feed. You can skip to the end and leave a response. Pinging is currently not allowed.
---