Posted October 27th, 2017 at 3:42 pm by Dan Musick
In this age of Amazon and instant deliveries, it is easy to conclude that shipping always is or should be free.
The fact is that shipping products is never free. If the customer does not pay for shipping, it is because the seller adds shipping to the cost of the product. Discerning shoppers recognize this, and they add the product cost to the shipping cost to determine the real cost.
Quality of Product
A wise shopper also checks for the quality of the product. "Where is it made? What kind of comments have customers posted on Google, Yelp, or Amazon reviews? How well does the product perform or last?" Here, again, wise shoppers take reviews with a grain of salt.
Awhile back, I ordered a mini SD card from Amazon. As I remember, all the five-star reviews were certified. I ordered and then returned the defective part. I suspect the seller sold OEM parts in the beginning, secured positive reviews, and then switched their product. Breaking even on the first 100,000 might allow a seller to retire on the next 100,000 lower quality cards that the seller purchases at a fraction of the cost.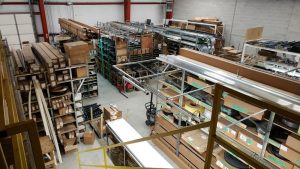 Quality of Service
Wise shoppers also check for the quality of service. They ask, "Does the seller stock the product, and how soon will it ship? Is there an extra charge for normal shipping times?" We have competitors who sell products on Amazon at our wholesale cost, and they make their profits on exorbitant shipping or handling fees if the customer can't wait a few weeks for the item.
Shoppers also look for support and technical advice. The garage door business is highly technical. Our sales support staff advises DIY customers as well as wholesale customers.
And, what about orders that have already been placed? What happens if they receive the wrong item or if they need help with the order? About a year ago, I went to Amazon's site, and I ordered two special cutters for our warehouse. Our order was part of a mix up with a different order in Atlanta. The customer there got our two tools, and we received only the single tool that they had ordered.
There was no phone number to call and no e-mail address. My only contact was through Amazon. I had to pay to return the incorrect order, I received credit only for the single tool I had received, and I had to pay a restocking fee. The net result was a return of only five or ten percent of what I had originally paid at the beginning. It was a waste of time to file with Amazon.
Buyer Beware
Amazon does have high standards for sellers, but these standards do often have cracks filled with low life sellers. I shop for the lowest prices, but I've also been burned. Sellers who lower their prices to increase sales may not be there when you need them. If they have a phone or e-mail, they don't respond. And often, they disappear after realizing their meager profits are not worth investing all that time.
This entry was filed under Another Way to Replace Garage Door Cables. You can follow any responses to this entry through the RSS 2.0 feed.
---