Posted February 16th, 2018 at 6:33 pm by Dan Musick
In my January 19 blog, I explained the changes FedEx and UPS had made for shipping boxes that are over eight feet long. One inch of extra length would cost more than six times as much to ship. This affects how we ship products that require larger boxes such as shaft and strut kits.
Last week I showed a solution for shipping garage door seals to accommodate products that are over eight feet long.
This week we are showing a way to serve customers who need steel shafts and struts that normally ship in boxes over eight feet. The solution: Junction Kits.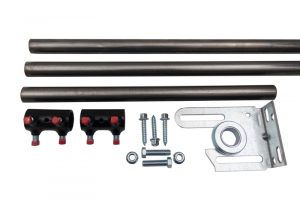 Above, you see one of our Shaft Junction Kits from our Garage Door Shafts and Couplers page. This kit will fit into boxes that are less than eight feet long. The SH-011-16K Shaft Kit will allow us to ship a shaft for a 16′ wide door in boxes that are less than eight feet long.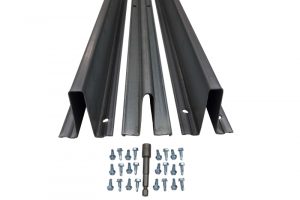 Another new product is our Strut Kit. We had earlier developed strut junction kits that are available on our Garage Door Struts page. Pictured above is our strut kit for nine-foot wide doors. We have also developed these for wider Clopay doors.
For our video on how to assemble the struts, please watch "Garage Door Strut Assembly."
This entry was filed under News, Products, Technical Support. You can follow any responses to this entry through the RSS 2.0 feed. You can skip to the end and leave a response. Pinging is currently not allowed.
---