Posted January 26th, 2018 at 6:43 pm by Dan Musick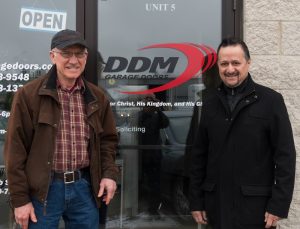 Over the years I've had the privilege of personally training men to repair residential and commercial garage doors and openers, along with steel rolling doors and dock levelers.
This week I had the honor of training a true tradesman and businessman, Ray Bansal. He hails from England and he began as a software man, but he prefers hands-on business. Over a number of years, he built and ran a glass company. He sold that business and later built and sold an entrance door company.
Now he's beginning a third venture – selling, installing and servicing all types of doors and dock equipment.
He scored very high on the mechanical test we give, and he demonstrated extremely quick learning, often running ahead of me in my instruction. Training him was a real joy; I threw everything at him and he soaked it up like a sponge. He's as agile as a 20-year-old.
He's honest and hardworking. Unlike many professionals who charge the customers for their learning, Ray understands that with every business there is a learning curve, and he will not bill that to the customer. That has been my philosophy over the decades, and that sense of fairness is not common.
The name of his company is Prostar Doors. In coming days you'll find his site at www.prostardoors.com. Until then you can reach him on his cell phone at 408-210-4780. He gets a lot of spam calls just as I do, so if he doesn't answer, I would recommend leaving a message.
Tell him you read about him on Dan's blog, and wish him all success in his new business.
I am expecting great things of you, Ray! May God bless you as you serve your many customers in the Phoenix, Tempe, and Scottsdale area.
This entry was filed under About DDM, Garage Door Dealers, Technical Support. You can follow any responses to this entry through the RSS 2.0 feed.
---