Posted October 2nd, 2020 at 5:36 pm by Dan Musick
Photo eyes keep garage doors from injuring people. They detect objects that would obstruct the door as it closes. However, a malfunctioning photo eye may keep the door from closing at all.
Often when a garage door will open but not close, the cause is a misaligned eye or a broken wire. On residential doors with LiftMaster openers, the quickest test is to check the photo eyes on both sides. If both lights are on, the eyes should be in working order. Sometimes, however, one eye will flicker, and the eye will need to be realigned.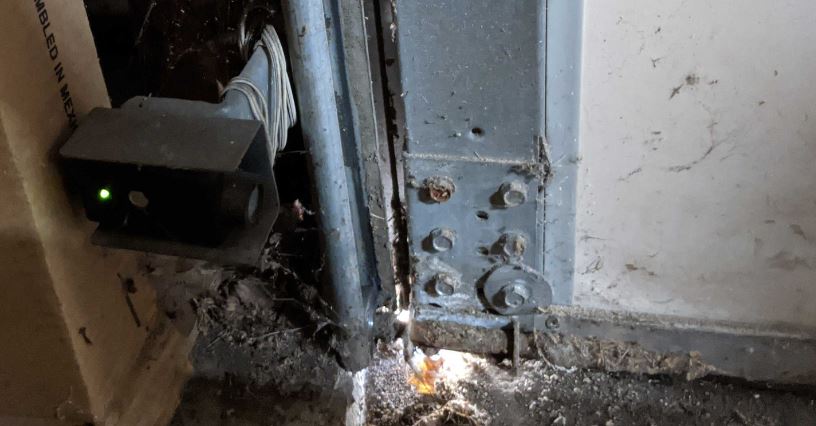 There is another way for you to troubleshoot photo eyes on a LiftMaster Operator. You can do this by checking the lights on the control board, as explained in the video below.
On the operator's control board, the light marked LMEP will start flashing if the photo eyes are malfunctioning or disconnected. This is the simplest way to troubleshoot photo eyes.
For a simple solution to sun-related photo eye malfunctions, see this post. Other possible solutions include realigning the eyes or fixing broken wires. If the eye continues to malfunction, you may need to replace it.
We also have a blog post with instructions on how to install Omron Photo Eyes.
This entry was filed under Products, Technical Support. You can follow any responses to this entry through the RSS 2.0 feed. You can skip to the end and leave a response. Pinging is currently not allowed.
2 Responses to "Troubleshooting Photo Eyes on a LiftMaster Operator"
Dale Thompson Says:
May 31st, 2023 at 4:14 pm

Can you put photo sensors on a Liftmaster h501l3l overhead door

Caleb Penney Says:
June 1st, 2023 at 11:14 am

Hello Dale, thank you for that question! Yes, you should be able to put photo eyes on that operator. However, since that opener is no longer supported by LiftMaster, it is difficult to get parts and advice on what the proper replacement is.
---