Posted March 23rd, 2018 at 3:29 pm by Dan Musick
In 2016 we showed the critical wiring connections on our blog titled How to Install Omron E3JM Photo Eyes on Powermaster Operators.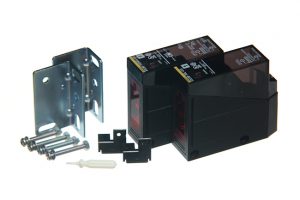 In this blog, I'll show how I installed the eyes on a job nearby.
I used a four strand wire. The emitter has two screws for power, and the receiver has four screws – two for power and two to reverse the operator travel. The black and white wires on terminals 1 & 2 go to the power, usually to the operator, but any other source will work. The green and red wires go from the receiver to the operator to reverse the door when an obstruction blocks the eyes.
Here are the installation directions.
Turn off the power to the operator before mounting the eyes or hooking up any of the wires.
Use angle or brackets to mount the eyes four to six inches from the floor, and point them toward each other. If the sun shines into the building mount the emitter so the sun shines on it. Sunshine on the receiver will often prevent the operator from closing the door. The eye with 2 screws is the emitter.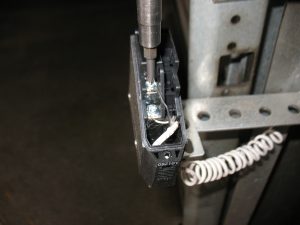 Secure a black and a white wire to the  #1 & #2 screws of the emitter. Run the wires up over the door and down to the receiver on the other side.
Here you will connect eight wires from two wiring harnesses. Twist the black and white wires from the emitter to the black and white wires going to the operator, and secure these wires to the same #1 & #2 screws of the receiver.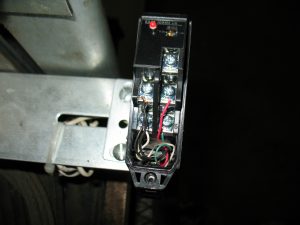 Notice on the right side of the receiver that there are three screws. The #3 above is not used.
In the wiring strand going to the operator are an additional green and red wire. Connect the red wire to #4 and green wire to #5.
Run all four wire strands to the operator terminal.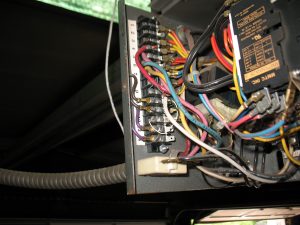 For power connect the black and white wires to terminals #11 and #12. When the power is turned on there should be 24 -28 volts on these two terminals. Connect the red and green wires to terminals #8, and #9.
Turn on the power to the operator and test the eyes.
Important: Running a jumper and shorting the #8 and #9 contacts will reverse the door when it is closing. It will also keep the door from closing. When power is going to the eyes these contacts are normally open. When there is no power, or when the eyes are blocked, the contacts from the receiver eye close and the door will not close, or the door will reverse when it is in the process of closing.
This entry was filed under Another Way to Replace Garage Door Cables. You can follow any responses to this entry through the RSS 2.0 feed.
---