Posted January 29th, 2016 at 2:12 pm by Dan Musick
The most difficult part of installing the Omron E3JM Photo Eyes on older PowerMaster operators is knowing how to run the wires. This image should help. Additional instructions for running the wires are on our blog titled, "Omron Photo Eye Installation," or on our YouTube channel.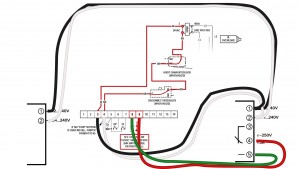 This photo simplifies the hardest part of installing the Omron E3JM Photo Eyes: determining where to connect the wires.
In 1992, the federal government passed laws requiring all manufacturers of residential openers to include photo eyes with their openers. To close the door with radio controls or by momentarily pressing the wall button, the opener needs working safety eyes. If you disconnect the eyes or if the eyes fail, then you can only close the door by pressing and holding down the wall button.
In 2010, the government passed similar laws for manufacturers of commercial and industrial operators. Now, the design of the operator includes the installation of safety eyes. In fact, their installation is necessary to close the door with momentary contact or with radio controls. Therefore, without the installation of functioning eyes, you can only close the door by pressing and holding the close button. For additional safety, many establishments prefer to close their doors in this manner. However, if they want to use radio controls, or if they want to press the close button and walk away, safety eyes must be wired to the operator.
Prior to 2010, operators installed without safety eyes caused numerous door accidents and injuries. As a result, the owners, managers, and supervisors of factories, distribution centers, car dealerships, and other facilities are now having their maintenance personnel and contractors install photo eyes. This will protect their doors, their equipment, and most importantly, their people.
This entry was filed under How Garage Doors Work. You can follow any responses to this entry through the RSS 2.0 feed. You can skip to the end and leave a response. Pinging is currently not allowed.
---