Posted February 8th, 2016 at 9:35 am by Dan Musick
On a garage door with standard lift tracks, the top of the door rises immediately into the radius at about a 45-degree angle. If the door has windows in the top section, the pitch of the tracks allows the window frame to clear the top PVC stop molding. Yet, on high lift doors, the pitch differs.
On high lift doors, however, the pitch of the upper vertical tracks is closer to 30 degrees. This may cause a problem if the door has windows in the top section. The pitch of the tracks causes the window frame to scrape or catch the top PVC stop molding.
On new high lift doors with windows on the top section, we normally install the top PVC stop molding with minimum compression so that, as the door rises, the contact between the window frames and stop molding is minimized.
On a high lift conversion, the remedy is to adjust the roller carriers of the top fixtures so the window frames clear the trim when opening. When you do this, however, you will likely lose your seal at the top of the door.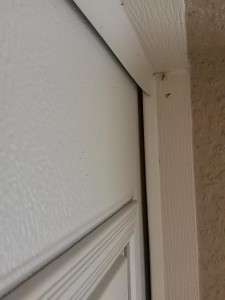 More Options
The solution for this is to pitch the tracks further into the garage with longer high lift brackets. When filling out the custom high lift inquiry, just indicate that you have an outside lock you want to keep. This will provide the added pitch you need.
Another option for sealing the top of the door is to tighten the tops of the vertical stops. In addition, install a top weather seal on the door. These normally work only on the doors that are two inches thick.
Both solutions may be required to get an adequate seal. This depends on door thickness and the distance from the tops of the window frames to the top PVC stop.
This entry was filed under Customer Input, Technical Support. You can follow any responses to this entry through the RSS 2.0 feed.
---