Posted November 10th, 2017 at 5:11 pm by Dan Musick
Hormann is a German garage door manufacturer that has set up a manufacturing plant here in the United States. The purpose of this entry is to show many of the unique features of the door parts.
The bottom fixtures incorporate spring-loaded arms to prevent the cables from coming off the drums if the cable tension loosens.
There is a cover on this fixture for safety.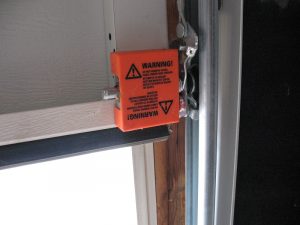 Hinges
The end hinges are graduated and uniquely designed. However, their function for supporting rollers is similar to the function of American end hinges. Notice the standard 2″ roller with the 7/16″ stem.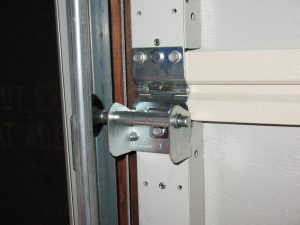 The center hinges are similar to many of the American-made hinges. Here we see the number 3045112.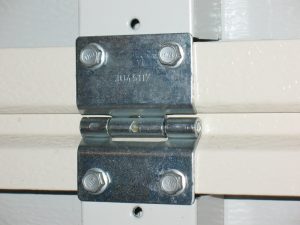 The adjustable top fixtures look similar to those made by Napoleon and Arrow Tru-line.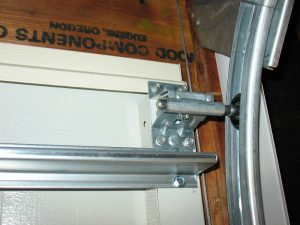 Torsion Springs
The torsion assembly functions the same as American-made systems, but there are serious compatibility issues to consider when replacing parts.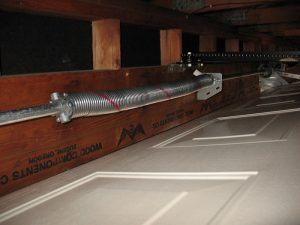 One is that the torsion springs use German Spring Sizes. None of the American measuring or engineering charts work with these wire sizes. Springing the Hormann garage door will require weighing the door.
Another complicating feature is that the cable drums on residential doors are not the standard four-inch. They're considerably larger. Notice also that the end of the cable secures with a set screw. When springing the Hormann garage door, it will be necessary to replace the drums and cables. Getting engineering information from Richard Kinch's site might also be helpful.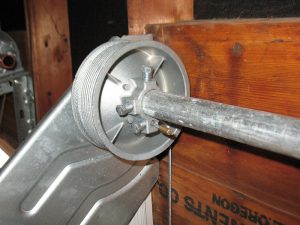 The springs appear to have two-inch inside diameters, but the ends hook like the old BarCol door springs.
Here you can see the end hooked over a pin on the winding cone.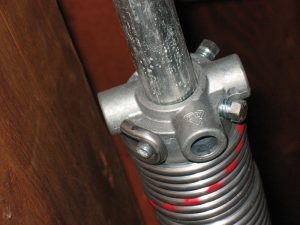 However, the other end of the spring hooks over a pin on the stationary cone.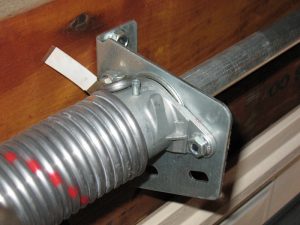 The spring anchor bracket holes do not have the standard 3 3/8″ centerline spacing, so a conversion from the German hardware will require replacing this part as well.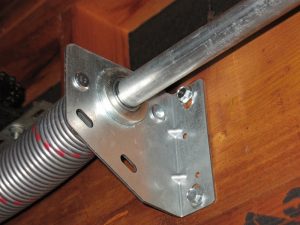 Spring Assembly
One nice feature of the Hormann garage door spring assembly is that the shaft has a one-inch outside diameter. In addition, the bearings have inside diameters of just slightly over an inch so these parts can be reused if converting to standard torsion hardware. This also applies to the end bearing plates, pictured below. These plates also are larger to support the junction for the vertical and horizontal tracks.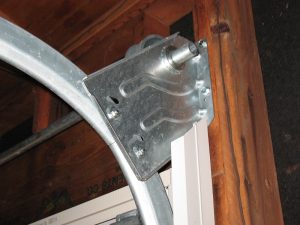 Notice also that the Hormann garage doors use standard 2″ tracks, but rather than the curve is only on the horizontal track, half the curve is on the top of the vertical track, and half is on the jamb end of the horizontal track.
This entry was filed under Another Way to Replace Garage Door Cables. You can follow any responses to this entry through the RSS 2.0 feed.
---