Posted May 6th, 2016 at 4:29 pm by Dan Musick
We received an email this week from a do-it-yourselfer who had installed a Clopay door with an EZ-SET torsion spring set up. On his door, he has a single spring with a winder at the left end of the torsion assembly. At the right end of the torsion tube, there is a plastic frame that slides into the end bracket housing a bearing, as pictured here.

In the past year, the EZ-SET bearing on the right side has come out of the plastic bearing holder a few times. When this happens, the shaft grinds on the bearing frame as the door operates. The cable drum and cable are lower on the right side. This side reaches the floor first when closing, and there is a gap under the left end of the door.
Installing the Bearing Holder
If you install the bearing holder backward, the bearing will probably come out. On an improperly installed bearing assembly, the race of the bearing faces the inside. Since there is nothing to hold it, it can come out.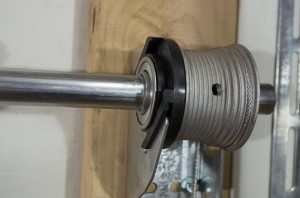 The correct way to fix this is to reverse the black plastic bearing housing.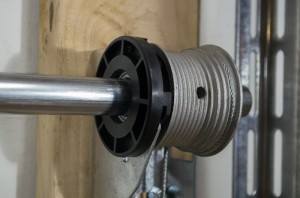 The bearing holder fits into the end bracket with the race of the bearing touching the cable drum.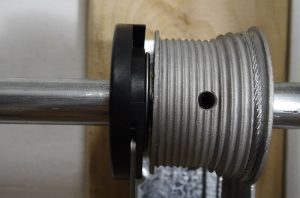 When installed this way, the bearing cannot come out of the plastic holder.
On many installations, the bearing is turned correctly, but the drum is not installed next to the bearing. If there is a gap between the drum and the bearing, the bearing may slip out. We have also found that a gap can cause the right side of the drum to scrape on the frame. This can cause the cable to come off the drum when the door opens. The cable drum at each end of the torsion shaft must be touching the race of the bearing.
Sometimes the only problem is the installation of the EZ-SET bearing backward. Also, if it looks like too big of a project to correct, you can just install a hose clamp next to the race of the bearing. You can also drill and pin the shaft next to the bearing.
This entry was filed under Customer Input, Technical Support. You can follow any responses to this entry through the RSS 2.0 feed. You can skip to the end and leave a response. Pinging is currently not allowed.
---