Posted December 31st, 2022 at 1:11 pm by Philip Kendall
Commercial Operator Clutches are one of the safety devices that operator manufacturers use to keep their doors from causing injuries or damage. The clutch will slip, which keeps the operator from forcing the door open or shut if something is obstructing it. If you need to replace your clutch, we have instructions on our blog post about how to replace the clutch on a commercial jackshaft operator.
In this video, we use a vise grip and a LiftMaster operator to demonstrate how commercial operator clutches work.
The clutch connects to the operator's motor by a v-belt and a pulley. Under normal circumstances, the motor turns the v-belt, which turns the pulley, which turns the shaft, which transfers torque through several other drive components to open or close the garage door.
However, if there is something obstructing the garage door, the increased resistance will cause the clutch to slip. This keeps the operator from trying to force the door open or shut. As a result, whatever or whoever is obstructing the door will hopefully suffer fewer injuries or less damage. For example, if by mistake the door closes on someone, the clutch slipping will keep the full strength of the motor from coming down on top of them.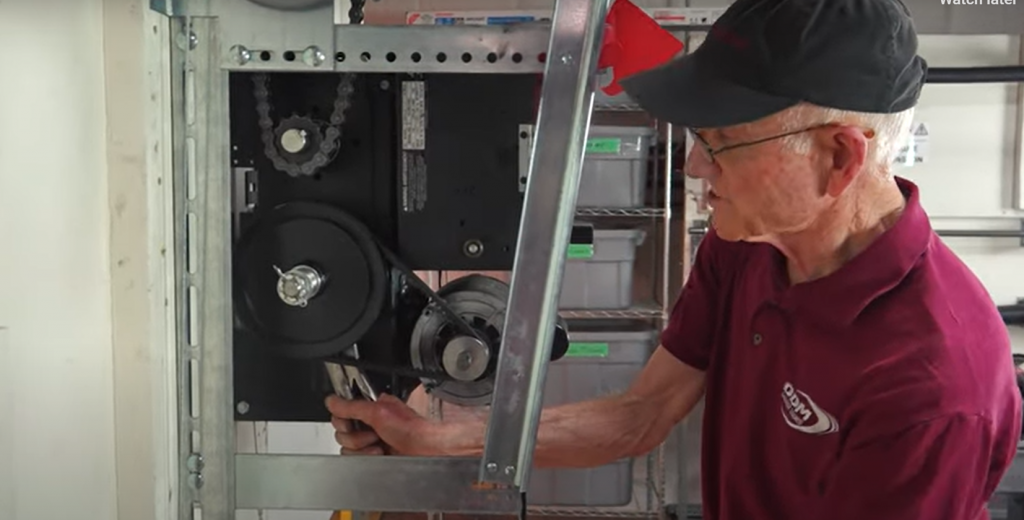 This is accomplished by having the pulley from the motor not connect directly to the shaft. Instead, springs and a pressure plate hold it in place. This indirect connection is strong enough to open and close a garage door, while still allowing the clutch to slip.
We hope this will give you a better understanding of how commercial operator clutches work.
This entry was filed under How Garage Doors Work, Products. You can follow any responses to this entry through the RSS 2.0 feed. You can skip to the end and leave a response. Pinging is currently not allowed.
---