Posted December 28th, 2018 at 4:32 pm by Dan Musick
 Learn a good trick.
Go on YouTube and look a for "life hacks," and try some of them. It will expand your mind to see possibilities.
 Break a record.
It may be a personal record, or winning a contest, but strive for the best. You may just realize it.
 Make a new friend a month.
Get to know the new person sitting next to you in Sunday School. Introduce yourself to a clerk you see regularly.
 Develop a good relationship with your body.
Pick up on your water drinking. Get enough sleep. This, of course, can include diet, exercise, and weight management, but it goes beyond to total life excellence.
 Learn something you never learned as a child.
Never read music? Jumped rope? You may be surprised if you try.
 Try a new food each week or month.
Ever had a caper? An oyster? Cross something good off your list, and share your experience.
 Make the usual unusual.
Stop doing everything the same. Put your sock and shoe on one foot at a time. Walk a different way to work. Even writing a grocery list in purple ink is a departure from the ordinary!
 Sort out a financial problem.
Here we get practical. Brainstorm all the ways you can solve a coming financial issue, and then narrow them down with some helpful input.
 Do something nice for others every day.
Give somebody a quarter in a shopping cart at Aldi. Carefully let people out of driveways and parking lots before proceeding.
These are just some of them. And they can be personally enriching.
 But there is one decision in life that trumps all of them, for all time and eternity.  Learn about it in "The Only Thing in Life That Really Matters." This will give you a truly Happy New Year!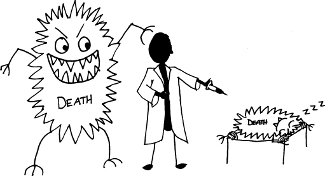 This entry was filed under Another Way to Replace Garage Door Cables. You can follow any responses to this entry through the RSS 2.0 feed.
---