Posted November 9th, 2018 at 6:19 pm by Dan Musick
End hinges on new garage doors often break prematurely because the hinges are thinner and narrower.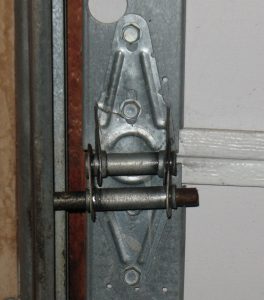 We often recommend that customers with larger, heavier doors upgrade to the heavier 14 gauge end hinges when possible. Here is a comparison of the benefits and drawbacks of each.
While 18 gauge end hinges are less expensive, the steel is not as thick, and they run the risk of bending or snapping with repetitive garage door movement – especially on heavier garage doors.
The heavier 14 or 11 gauge end hinges are sturdier. However, we have found compatibility issues with the heavier end hinges because of the width.
The 18 gauge hinges are two inches wide. Notice that the center holes are aligned with the 2 1/2″ mark. In addition, the center of the wheel is at the half-inch mark.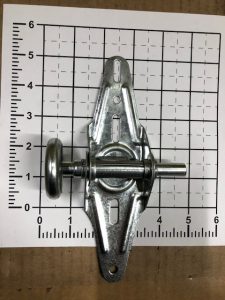 In contrast to this, notice below that with the wider 14 gauge end hinge, on the same mark, the roller wheel protrudes out about a half inch further to the zero line.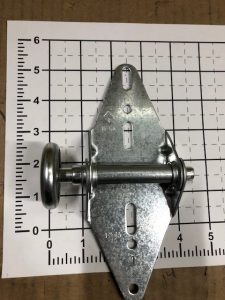 Because of this extra protrusion, the garage door converted to the heavier, wider end hinges can bind when it is opening.
The fix for this is to move your tracks, flag brackets, end bearings, and cable drums out a half inch on each side. This can quickly turn into a major project.
By comparing the benefits and drawbacks of thinner, narrower versus thicker, wider end hinges you can decide which works better for your garage door. For further support, you can watch our YouTube video titled "Garage Door Roller Hinge Replacement Tutorial."
This entry was filed under Products, Technical Support. You can follow any responses to this entry through the RSS 2.0 feed.
---