Posted November 16th, 2015 at 12:24 pm by Dan Musick
In recent months we have received emails from customers who installed high lift kits, and now one of their cables is fraying or unraveling due to rough edges on the drums.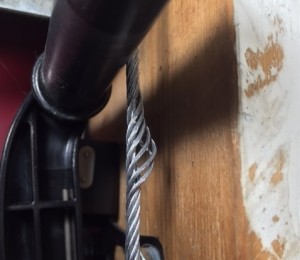 This appears to be a problem with the foundry where the OMI 4-54 HL LD cable drums are made. The joints of the molds leave rough edges on the drums. These rough edges should be smooth, but the foundry is not consistent in grinding the edges.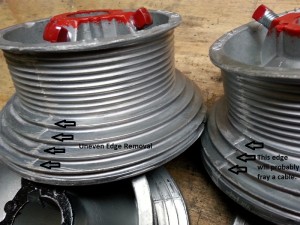 In recent months we started grinding all these drums in our shop.
If you purchased one of our kits in the last two years, and if you have a high lift cable that is beginning to fray or unravel, we will provide new cables. Our YouTube video on "How to Replace Your Garage Door Cables" might be helpful to watch. You can file the rough edges on the drums, which would be less work. However, if you prefer, we will provide new drums as well. There will be no charge for the parts or shipping. Please provide your order number, if available. Otherwise, we can search our invoices by your name.
I apologize for any inconvenience resulting from this quality issue concerning the rough edges on the high lift drums.
This entry was filed under Customer Input, News, Technical Support. You can follow any responses to this entry through the RSS 2.0 feed. You can skip to the end and leave a response. Pinging is currently not allowed.
---