Posted October 26th, 2018 at 4:24 pm by Dan Musick
In the garage door industry gapping refers to engineered spaces between coils on a torsion spring. Gapped springs function differently than ungapped springs, and using the wrong springs from a gapping perspective can cause unneeded expense and time to rectify.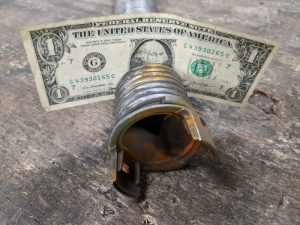 Clopay EZ-SET torsion springs have specially designed gaps that are exclusive to Clopay Door EZ-SET systems. Consequently, you cannot use standard torsion springs with these systems. Using an ungapped spring will usually break the winder.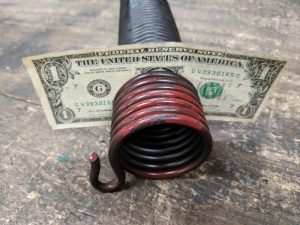 Many self-storage roll-up door springs are gapped, and the gapped length is to be compressed completely when measuring the springs. DDM carries gapped self-storage springs, but they are usually special order.
Above are two examples of coil gapping. Note how the dollar bill can pass readily between the coils on the gapped springs. On standard torsion springs, however, a dollar bill will not slide between the coils because the coils are wound tight.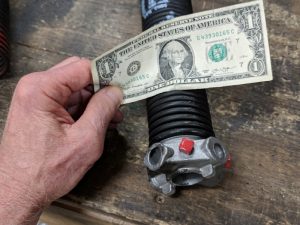 It is difficult to measure gapped springs due to the tendency of the coils to push apart from each other. The compression required for length accuracy requires vigilance and care, especially when you must get fine tape measurements of 10 and 20 coils, and overall spring length.
DDM can assist you with verifying the measurements of a gapped spring if you're unsure, but often it is better to determine the spring you need by finding the door model or by weighing the door.
This entry was filed under Technical Support. You can follow any responses to this entry through the RSS 2.0 feed.
---