Posted October 30th, 2015 at 12:19 pm by Dan Musick
A customer emailed us today regarding a frozen dock leveler hinge. The lip on his Serco mechanical dock leveler will go not up or down. In our professional opinion, the dock leveler hinge probably needs lubrication.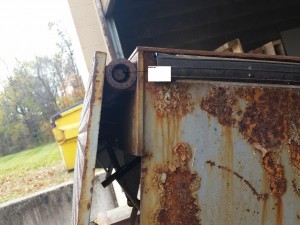 He asked if he should replace the hinge pin.
Since we have the same leveler on our dock, I went out and checked to see if there could be any other cause for the lip to stick. The only part connected to the lip is the lip spring assembly, but there is no way this could cause the binding.
Before replacing the hinge, I would recommend the following.
First, check to make sure the plate and hinge pin are straight. Damaged hinges and plates may need to be replaced.
Lubrication of the dock leveler hinges and hinge pins with penetrating oil along the full width of the deck, will be necessary.
Then, tap the lip with a sledge hammer exercise caution not to damage the lip.
If that doesn't help, remove the weld, collar, or pins at each end of the deck. This will secure the hinge pin to the end hinges.
Using a sledge hammer and large pin drive the hinge pin to the right or left less than an inch to free it.
When the pin is free, spray additional thin lube to prevent the hinges from seizing in the future. Do not use thick grease in colder climates as this may prevent the lip lift assembly from working properly. For more information, watch our video on How Mechanical Dock Levelers Work.
This entry was filed under Customer Input, Technical Support. You can follow any responses to this entry through the RSS 2.0 feed.
---