Posted April 16th, 2015 at 11:11 am by Dan Musick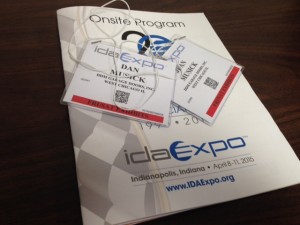 This is the first trade show for door dealers that I've attended in over 20 years. The trade organization used to be called D.O.D.A., short for Door and Operator Dealers of America. While at the International Door Association Expo, I took a lot of pictures and videos I'd hoped to post here, but I discovered on the way out that I was not to publish them.
Service Spring. As we entered the expo, we went immediately to the booth of our primary supplier of springs, door parts, and opener parts. It was great to see and meet the people we talk to on almost a daily basis, but whom we'd never met face to face. I shared with them the goal I have when I order from them: to be off the phone in less than a minute. Usually, it works. Their sales people are phenomenal!
CHI Garage Doors. Their Model 2283 was my favorite in the years I was installing them. Their exhibit was the most impressive. They've developed a totally new design of pass doors for sectional doors (Click to view video) and pass doors for steel rolling doors (Click to view video). After the doors open, the Wicket Doors and framing above them swing to the inside. Wow! What an innovation! I had the opportunity to meet the designer, Paul Ravens. He shared the company's work standard: God first, family second, work third, one of their keys to superior quality and continued growth and success.
Arrow Truline. Jeff Chappuies showed me their new torsion spring winder. This provides faster and safer winding for torsion springs. I just ordered a box of these, and I'll have our web product developer post them online. We'll need a little help with this from our video person as well. Jeff knows doors like someone who's been installing and repairing them for decades, even though he learned the business from inside the factory.
Action Industries. They've supplied most of our garage door seals over the decades. Marcus showed me the rodent block seals. I asked my warehouse manager to order a few rolls of this on our next shipment. In the past, I've recommended stuffing steel wool inside the bottom seal, but that rusts and makes a mess. Action's product uses a stainless steel mesh. I'll never forget the Friday morning I called in a $12,000 order for door seals. Marcus had the product ready that afternoon. He stayed late to help load the product in my van for delivery the next morning in Wisconsin.
Denco. John has always been a big help getting us the parts we need. He finally convinced me to get a bench cable crimper, which I ordered last Monday.
National Door. I finally met Jan. A while back, they shipped over $20,000 worth of their jumbo seal to jobs in Colorado. She was impressive in the way she managed the order. Much of their product we sell we don't even have on our site yet. We also get our windows from National.
Iowa Spring. Great to sit down with Dan and discuss the different springs they make for us. He taught me a lot about dock leveler springs. I talked briefly to Cameron, the rep for this area. They are great people to do business with. They also supply springs to farm implement manufacturers.
Martin Garage Doors. I've never seen one of their doors, but they have always impressed me as the most safety-conscious of all the different garage door manufacturers. Their doors feature the safety track system and their safety spring system. If a garage door spring breaks and the door is disengaged when the door is open, the safety system will prevent the door from free-falling.
Fehr Brothers. I talked to them about their longer life extension springs rated at 30,000 cycles. As a result, I'll be ordering some to test this summer as part of a mechanical engineering student's internship here in West Chicago.
Napoleon / Lynx. I talked to them about their painted extension springs. They have the cleanest extension springs on the market. I've ordered almost countless spring and parts from them over the decades.
Wayne Dalton. I met the man who named the spring system, "TorqueMaster." That was some story to hear.
Overhead Door Parts.Com. These parts are getting harder to find. It's great to have a resource to help to find them. Customers are loyal to the parts with the Overhead Door ribbon.
IControls. A Canadian company. It looks like they will be able to produce some universal OEM and aftermarket controls for hydraulic, air, and Linear actuated dock levelers.
Chamberlain LiftMaster. The representatives there were very helpful. Chamberlain has instituted IMap policies prohibiting the sale of products at below market value. For example, a dealer on Amazon sells the 8500 for $314, including shipping.
Genie. They had the biggest booth. When people think of garage door openers, they often think of Genie; they're a household name. Personally, I prefer LiftMaster openers, but everyone in the trade has their own opinion.
Janus International. Here is a great supplier of rolling doors for self-storage facilities. We've quoted many of these over the years, but we haven't sold very many. It's a competitive market, but I do hope to get some of these online in the coming year.
Northwest Door. They're from the state of Washington. They had the most beautiful door I've ever seen. A lot of people out West ask for spring dimensions for various models of doors. Therefore, the national sales manager clued me into how to get the information I needed.
Super Sneaky. It's a great product, but for a limited market. It requires the opener to push the top of the door against the top of the opening. That doesn't always work on 16-foot doors. We've developed a method for installing double roller low headroom top fixtures on 16-foot wide steel doors.
Sliding Door Pros. I'd like to get sliding door parts up on our site in the next year. The box tracks, hangers, and trolleys are great for sliding barn doors.
American Garage Door Supply, Inc. They have great solutions for harsh environments, such as car washes. Products include sealed rollers and stainless steel hinges and fixtures. The parts are impressive, but they cost about ten times as much as the standard galvanized hardware. And the market is quite limited. When I worked at Door Systems of Elk Grove back in the '80s, they installed many of the air operators carried by this company. I still haven't decided whether to carry these parts.
E-Z Weigh Scale. This is a great innovation for weighing garage doors.
Schweiss. For decades Schweiss has led the industry in the manufacture of hydraulic one piece and bifold agricultural doors, barn doors, and aviation hangar doors. Parts for these are on the back burner. Last year in Michigan, I helped train some men on how to repair some of the bifold doors.
Torque Force Division of Canimex. This is a Canadian company. I've seen their name on cable drums and cones for decades. In addition, They are leading the industry in free-fall containment devices. These either prevent the torsion tube from turning, or they cause the bottom roller to lock into the track to keep the door from falling.
Rotary Products, Inc. They have led the industry for decades providing Dock seals, shelters, lights, bumpers, snow hoods, wheel chocks, dock boards, track protectors, dock levelers, strip doors, safety rails, and a host of other products.
This entry was filed under About DDM, Garage Door Dealers, News, Technical Support, The Truly Important. You can follow any responses to this entry through the RSS 2.0 feed. You can skip to the end and leave a response. Pinging is currently not allowed.
---