Posted May 9th, 2016 at 4:14 pm by Dan Musick
Overhead Door Corporation has discontinued production of their own brand of hinges.
The Arrow-Truline hinges are an excellent replacement, but the holes don't always line up with the existing carriage bolts on the older wooden doors.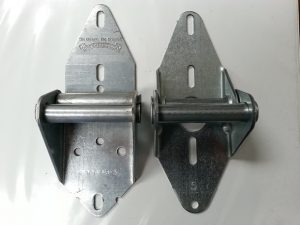 You can see the difference in the image below.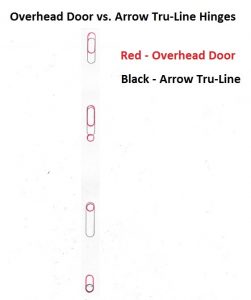 I have almost always been able to reuse the bottom two bolts and the lower bolt in the top of the hinge. The problem is with the top hole. If the top hole is drilled at the top of the slot, the bolt won't fit. In the past I've either knocked the bolt down to fit in the top slot or I've removed the top bolt and re-drilled the hole pitching the bit so I could reuse the outside hole but angle the bolt down on the inside so the bolt fits the lower slot.
On steel doors the self-drilling teks should suffice for accommodating the new holes.
This entry was filed under Customer Input, Technical Support. You can follow any responses to this entry through the RSS 2.0 feed.
---