Posted April 6th, 2018 at 4:36 pm by Dan Musick
This morning I heard that the unemployment rate was around four percent, which is about as low as I can ever remember it being. Earlier this week the Wall Street Journal reported that there is a shortage of workers in the Midwest. This week one of our employees provided a solution for our shortage of qualified help: birthing children.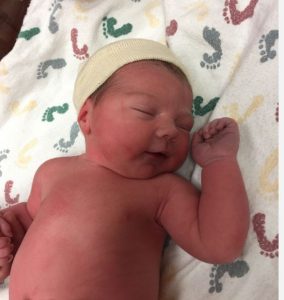 Meet Lilias Ohrid Worley, daughter of Maggie and Daryle. Daryle is one of our salesmen. Lily was named after Lilias Trotter, an artist and missionary to Algeria. Her middle name is from Lake Ohrid in Albania where Lily's parents met while working with youth in Albania as part of the missions ministry at Grace Church of DuPage.
Congratulations Daryle and Maggie!
To help advance Lily's career we will be starting her with a special toy. Mothers think babies like soft blankets and cuddly stuffed animals. But we know better. We're getting her a nice, hard and shiny Irwin brand vise grip.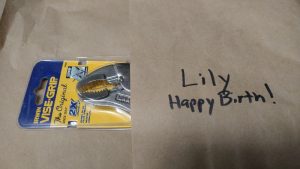 This is the only brand of grip we use in the garage door business. Not many months pass where we don't bet our lives and well-being on these grips. And, you can fix anything with a vise grip, even a broken heart. I bet some dentists have also discovered how handy they are.
Vise grips should be the key tool in MacGyver's tool chest. They fall into the special class of panaceas. Those who have had to improvise know what I mean. Take, for example, WD-40. No more squeaks – and I heard you can fix a bum knee by rubbing the stuff into your knee. Duct tape is another panacea. I also understand it helped get some of the astronauts back from the moon. And what about bailing wire? No skilled doorman can honestly state that at least one time bailing wire was the best solution for a particular application. Why, I heard once that a bunch of that stuff was used to help pull an elephant out of quicksand. 🙂
This entry was filed under History, News. You can follow any responses to this entry through the RSS 2.0 feed.
---