Posted September 3rd, 2007 at 4:48 pm by Dan Musick
Other web sites have calculators for determining your door weight to help in selecting the correct garage door springs. The most important part of the program to remember is that the door weights given are only approximations. In other words, they are not reliable for ordering garage door springs.
Here are two examples.
First, how much does a 16 X 7 Wood Panel door with 3 struts weigh? Some of the newer doors with 1/8″ or 3/16″ panels, narrow rails, and 22 ga. struts weigh 240-250 lbs. Some of the older doors with 1/4″ panels, wide rails, several paintings, and 20 ga. struts weigh 350-360 lbs. I've replaced garage door springs on both.
Second, how much does a 16X7 steel insulated sandwich door with steel on both sides and one strut weigh? Clopay has a 2″ sandwich door that weighs 260 lbs. I've replaced garage door springs on several of them. Just recently, I replaced springs on a newer Wayne Dalton garage door that weighed 126 lbs.
At DDM Garage Doors, we go to great lengths helping customers find the right garage door springs that will balance their garage doors as nearly perfect as possible. We don't apologize for asking you to jump through hoops to order from us.
We have records of hundreds of garage doors with their weights gathered from 28 years of replacing garage door springs. Any information you can get from your garage door will be helpful.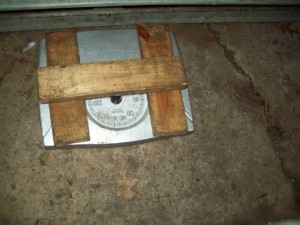 If you can't identify the make of your door, and if you are not sure your spring measurements are correct for the door, we recommend that you weigh your door, identify your cable drums, and measure your track radius. More information on how to do this is available at https://ddmgaragedoors.com/residential/torsion-springs.php.
This entry was filed under Technical Support. You can follow any responses to this entry through the RSS 2.0 feed.
---