Posted May 27th, 2007 at 2:33 pm by Dan Musick
Congratulations, Erich Musick!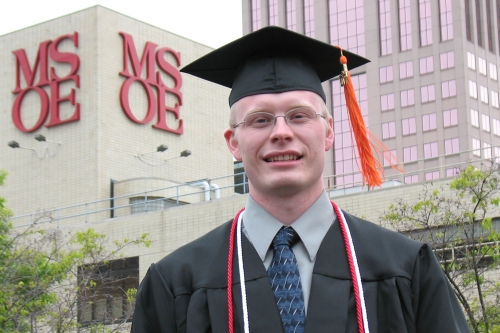 Your Mother and I are really proud of you as we celebrate your graduation with high honors and second in your class from Milwaukee School of Engineering with a Bachelor of Science degree in Software Engineering.
Therefore, we wish you the fullest of God's blessing as you begin your career at Metavante.
" Trust in the LORD with all your heart, and do not lean on your own understanding. In all your ways acknowledge him, and he will make straight your paths." (Prov. 3:5-6 ESV)
We love you!
Jill Musick, Erich's sister, and an upcoming junior at Wheaton College offers this variation of "Pomp and Circumstance," which she finished writing while waiting for the graduation to begin. pomp-circumstances.mid
Erich has been instrumental in propelling DDM Garage Doors into the internet sales of residential and commercial Garage Door Springs. In addition, he has achieved this with a comprehensive web page that includes special instructions for replacing torsion springs.
This entry was filed under News. You can follow any responses to this entry through the RSS 2.0 feed.
---