Posted May 28th, 2016 at 2:38 pm by Dan Musick
When upgrading to longer life torsion springs, it is often better to convert to four smaller springs, especially when the springs are for heavier garage doors.
On a standard two spring system both springs are normally mounted back to back to the spring anchor bracket off-centered above the door.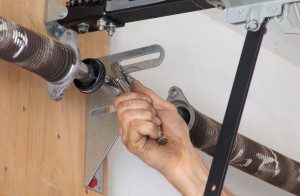 If the springs each weigh over 20 pounds, we recommend adding a bracket just beyond the end of the winding cone to support the weight. (The formula for locating the bracket before winding the spring is spring wire x number of turns plus four inches.)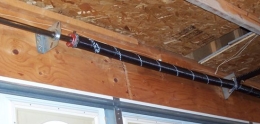 Since an extra support bracket is needed beyond the end of each spring, we can just as easily use those brackets as spring anchor brackets for additional springs in a four spring setup. All that's needed are extra 3/8″ X 1″ bolts and nuts.
A inquiry came in from Jordan regarding a 19′ wide X 7′ high door with a coupler in the middle of the shaft and two spring anchor brackets similar to the one in the image below.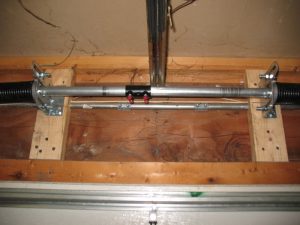 Because the door is so heavy, we are recommending converting to four smaller springs to increase cycle life and manage the weight of the springs.

You can find updated information on our blog titled "Four Spring Residential Torsion Systems."
This entry was filed under Customer Input, Technical Support. You can follow any responses to this entry through the RSS 2.0 feed.
---