Posted December 16th, 2016 at 3:21 pm by Dan Musick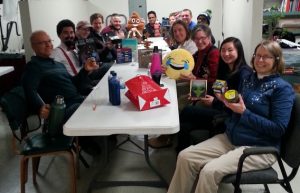 Food, gag gifts and lots of laughter. 'Tis the season.
Missing are Dan – I took the picture, and I'm not proficient at selfies. Also missing is Daryle Worley who had better things to do. He's getting married tomorrow.
Before eating I read from John 1.
"In the beginning was the Word, and the Word was with God, and the Word was God. He was in the beginning with God. All things were made through him, and without him was not any thing made that was made. In him was life, and the life was the light of men. The light shines in the darkness, and the darkness has not overcome it. . . And the Word became flesh and dwelt among us, and we have seen his glory, glory as of the only Son from the Father, full of grace and truth. "(John 1:1-5, 14 ESV)
Here is a summary of my comments I shared as the hot food cooled.
The infinite God became a finite infant, without ceasing to be infinite, omnipotent, omniscient, omnipresent God. God is Spirit and spirit cannot die. God became human so He could die for our sins. His justice required it; His love and mercy compelled Him. Since the difference between God's perfect holiness and our sinfulness is infinite, only an infinite sacrifice would suffice. Jesus, one of us, was born to die and rise again, that we who believe in Him might live with Him – forever.
Embrace this wonderful Christmas gift. "If you confess with your mouth that Jesus is Lord and believe in your heart that God raised him from the dead, you will be saved. For with the heart one believes and is justified, and with the mouth one confesses and is saved." (Romans 10:9-10 ESV)
Blessings during this wonderful Christmas season!
This entry was filed under About DDM. You can follow any responses to this entry through the RSS 2.0 feed.
---