Garage Door Struts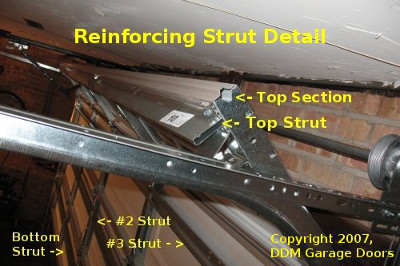 Garage door struts stiffen door sections to prevent them from bending or breaking. They also allow the door to open and close smoothly. If the sections are not rigid, the garage door will bind as it opens and closes.
Most residential doors use 2" struts, but residential and industrial doors over 16 feet wide often use three inch struts.
Residential single car doors typically do not need struts unless it is a steel door that is motor-operated. On these a strut across the top section is recommended to prevent the top of the door from bending if the opener force is not adjusted properly.
Doors over 10 feet wide usually have at least one strut across the top of the top section. A 16' wood door requires at least three struts, but steel doors often need only one. On double wide doors made of 25 or 26 gauge steel we recommend three struts, one across the tops of the bottom and top sections, and one in the middle of the door centered between the other two struts.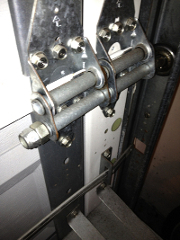 Strutting a door for hurricane areas requires at least one strut for each section and an extra one for the bottom of the door. Also required are extra track brackets and heavier hinges. Special rollers are often needed on doors with double end hinges. The ends of the shafts are threaded and nutted to prevent the rollers from sliding out of the hinges during a hurricane.
When adding struts to your door it is important to factor the additional weight. Two inch struts weigh about 10 ounces per foot. If you add over 20 pounds of struts to your door, we recommend replacing your springs. Otherwise, the extra weight will shorten the life of your garage door opener.
Garage door struts are normally two inches shorter than the door width. Struts for eight and nine foot wide doors can ship by UPS. Longer struts will not. These would need to ship over the road. With crating the cost for a single 16' strut can cost $2-300. To purchase struts for doors 10 wide or wider, we recommend ordering them from your local Lowes, Menards or Home Depot.
Struts frequently bend when an opener lifts a 16 foot steel door that has a broken spring. This will often leave a one to three inch gap in the center of the top section. These struts can be straightened by locking the door, removing the strut, and straightening it as demonstrated below. You will then need to straighten the top section and reinstall the strut.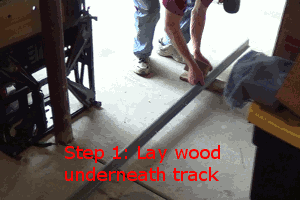 Prices Subject to Change
UN: Units by which each part is sold
Price: Cost per unit (for smaller quantities)
Qty | Price: When purchasing at least the quantity in the left column, the unit price is specied in the Price column to the right