Garage Door Shafts & Couplers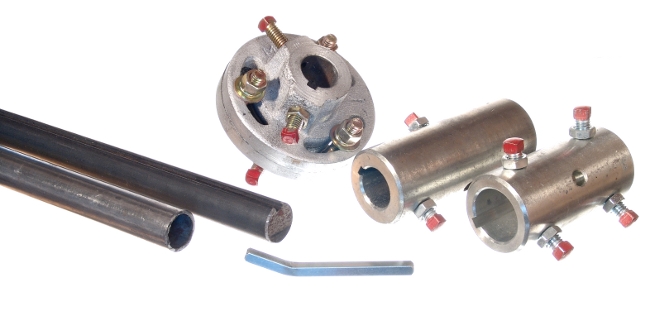 We sell solid and hollow shafts as well as couplers for torsion spring systems. The solid shaft (pictured to the right of the hollow shaft) comes in 1" and 1-1/4" diameters and is equipped with a fully keyed slot. Key stock should be used when connecting couplers and cable drums to the shaft. When joining two shafts together, you will need to use a coupler. Adjustable cast iron couplers, pictured back center, can make door repair much easier than if you use a non-adjustable coupler.
Hollow shafts are also available in 12 and 14 gauge for residential and lighter commercial applications.
Prices Subject to Change
UN: Units by which each part is sold
Price: Cost per unit (for smaller quantities)
Qty | Price: When purchasing at least the quantity in the left column, the unit price is specied in the Price column to the right