Garage Door Cable and Fittings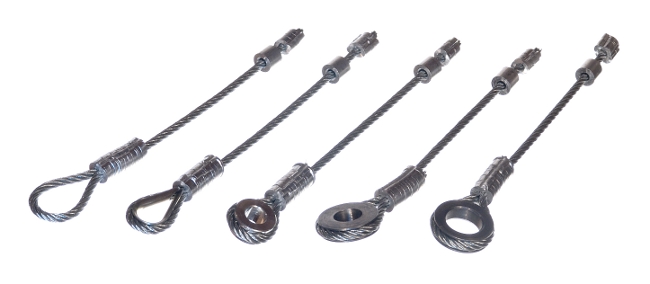 We offer assembled and raw cable in both standard and custom lengths for torsion spring and extension spring garage door systems. Pictured above are the different styles of custom-length assembled cable we offer for 1/8" cable. From left to right: Open Loop, Thimble, 5/16" Spool, 3/8" Spool, and 1/2" Spool.
With 3/32" cable, we only offer the open loop for the custom lengths of assembled cable. The 5/32", 3/16" and 1/4" diameter cables can be purchased with either the open loops or the thimbles. Every custom-length cable assembly comes with a crimped cable stop on the opposite end as well as a loose cable stop to help enusre that the cable will sit evenly in the cable drum.
The necessary length of cable varies based on the door and the style of lift: vertical-lift and high-lift doors require longer cables than standard-lift doors because of the positioning and style of the cable drums. For standard-lift residential garage doors, the cable length should be the door height plus 18 inches. When measuring an old cable, measure the full length including loops, spools, thimbles, and stops.
Raw cable of 3/32", 1/8", 5/32", 3/16", and 1/4" diameters is also available. If you are interested in assembling your own cables, we also sell stop sleeves, oval sleeves, thimbles, and spools.
Customers typically will purchase pre-assembled cables for torsion spring and extension spring garage doors. Pre-assembled standard lengths of cable for torsion spring doors come for 7' and 8' high doors. Assembled lengths of extension spring cables as well as safety cables are also available for 7' and 8' high garage doors.
Be sure to see our DIY page on cable installation for standard spring systems and for TorqueMaster spring systems.
Prices Subject to Change
UN: Units by which each part is sold
Price: Cost per unit (for smaller quantities)
Qty | Price: When purchasing at least the quantity in the left column, the unit price is specied in the Price column to the right