Posted June 17th, 2023 at 11:56 am by Philip Kendall
Wayne Dalton garage doors use a unique spring counterbalance system called TorqueMaster. They designed this system with safety in mind, making it easier for DIYers to install, adjust, and replace their own springs. In this blog post, we will help you find the resources you need to repair your Wayne Dalton garage door.
If you already know you need to replace your TorqueMaster springs, we have a TorqueMaster torsion spring replacement tutorial. We also sell TorqueMaster torsion springs.
How to Identify Wayne Dalton Systems
Wayne Dalton TorqueMaster systems can be identified by the fact that the springs that would normally be visible above the door are hidden inside a metal tube, as shown in the diagram below.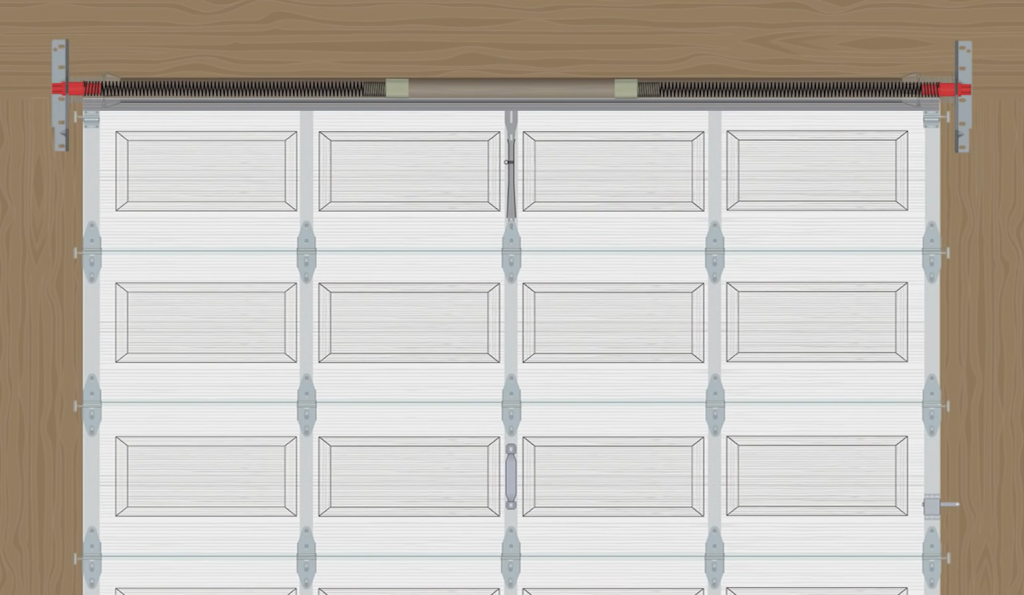 Troubleshooting Wayne Dalton Garage Doors
There are a number of common issues that Wayne Dalton garage doors may face.
The garage door won't open or close
This could be due to several reasons, such as a broken spring, a misaligned track, a faulty opener or remote, or an obstruction in the door's path.
First, check the cables on either side of the tube above the door. If the cables are loose, then probably all of your springs are broken.

On single-car doors, there is usually only one spring inside the tube. On double-car doors, there are usually two springs, and the cables will not come loose unless both break.
If your cables are loose, do not attempt to open the door. You could injure yourself or damage the door.

Check the power source of the opener and make sure it is plugged in and working.

If the opener seems to be working but the door won't open or close, or if the door won't close all the way, you probably have a broken spring.
We also have several tutorials on how to repair garage door openers.

Check the alignment of the door and the track, and adjust them if necessary.
Finally, check for any objects that may be blocking the door's movement and remove them.
If the door is unusually heavy, you probably have a broken spring. If this is the case, you will need to replace one or both springs.
Possible causes include loose or worn parts, such as hinges, rollers, bearings or springs. To fix this problem, you should lubricate all the moving parts of the door with a silicone-based spray or oil. You should also tighten any loose screws or bolts and replace any damaged or worn parts.
You can also read our blog post about reducing garage door noise.
The garage door is sagging or uneven
This could be due to a broken or stretched cable, a bent or warped panel, or a faulty torsion spring.
Check the cables and springs for any signs of damage or wear and replace them if needed.

If the cables are loose, do not try to open the door.

Then, you should check the sections of the door to make sure they have not bent or warped, and repair them if possible. If the section is severely damaged, you may need to replace it with a new one.
When to Call a Professional
While many garage door issues are repairable with some basic tools and skills, others may require professional assistance. You should call a professional for garage door repair if
You are not comfortable or confident with repairing your garage door by yourself.
You don't have the right tools or parts for the job.
The problem is too complex or dangerous to handle by yourself.
The problem persists after trying the suggested solutions.
---
Garage doors can last for many years with proper maintenance and care. By repairing your Wayne Dalton garage door promptly and correctly, you can ensure its safety and functionality for your home. For more general troubleshooting guidelines applicable to all types of garage doors, we also have a dedicated troubleshooting page.
DDM Garage Doors offers fast and affordable shipping across the United States and Canada and around the world.
The first draft of this blog post was written by Microsoft Bing
This entry was filed under History, Products, Technical Support. You can follow any responses to this entry through the RSS 2.0 feed. You can skip to the end and leave a response. Pinging is currently not allowed.
---