Posted June 17th, 2023 at 12:17 pm by Philip Kendall
Garage door rollers are the small wheels that run along the metal tracks on the sides of your garage door. They guide the door travel in the tracks to help the door open and close smoothly and quietly. In this blog post, we will outline the different types of garage door rollers and how to maintain them so that they continue to run smoothly.
If your rollers are broken, we have instructions on how to replace top, middle or bottom garage door rollers on our tutorials page. You can also buy replacement rollers on our garage door rollers page.
Types of Garage Door Rollers
There are three main types of garage door rollers: steel, nylon, and plastic, based on the material used to make the wheels. Each type has its own advantages and disadvantages.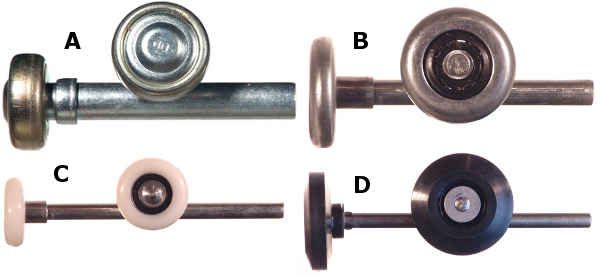 Steel-wheeled rollers are the most durable and heavy-duty option. They can withstand harsh weather conditions and heavy loads. However, they also tend to be loud and require regular lubrication to prevent rust and excess noise.
Nylon-wheeled rollers are the quietest and most versatile option. They are quieter and smoother than steel rollers. However, most are more expensive than steel rollers and may wear out faster on heavier or high-usage doors.
Plastic rollers are the least durable and reliable option. They can crack or break easily, and they may not roll as smoothly as steel or nylon. DDM Garage Doors does not carry plastic rollers, nor do we recommend using them.
Rollers also vary based on whether they have protective coating, and by the number of ball bearings they have inside the wheels.
Older Styles of Garage Door Rollers
Historically, there was some variation in garage door roller sizes. Before 1980, many Frantz doors had 3/8 inch stems on their rollers. However, in the early 1990s Frantz stopped making replacements for these rollers. If you have an older style of garage door roller, you may need to replace the hinges on your door as well to make room for the new 7/16″ stem rollers.
Modern garage door rollers are fairly standardized. Residential doors use what are called two-inch rollers, although the diameter of the roller wheel is closer to 1 3/4 inch. Commercial doors use both two-inch and three-inch rollers. The shafts or stems of most rollers have a standard 7/16 inch diameter, including all the rollers in our inventory.
How to Choose the Right Roller
When choosing garage door rollers, you should consider several factors.
The size of your garage door. This is the most important factor for buying garage door rollers. The larger and heavier your door is, the stronger your rollers will need to be in order to support the door.

Steel rollers are much stronger than nylon rollers. If your door is large and heavy, thick steel rollers are the best choice.
The rollers in our garage door roller inventory are rated by cycles, door height and weight, so that you can easily decide which one will fit your door best.

The moisture level of your environment. Rollers with stainless steel stems resist rust, and typically used in corrosive and high-moisture environments like car washes where the rollers are also sealed. If your door is not in a high-moisture environment, ordinary steel or nylon rollers should be fine.
The noise level of your garage door. If you want a garage door that operates quietly, you should opt for nylon rollers over steel.

The number of ball bearings in the wheels has a major impact on the noise level of you garage door. The more ball bearings the roller has in its wheels, the quieter it will be.
You can also look for sealed or precision ball bearings that offer even more noise reduction and durability.

The budget of your garage door project. Nylon rollers tend to be more expensive than steel, and rollers with more ball bearings tend to be more expensive than rollers with fewer ball bearings.
The lifespan of your rollers. Most steel rollers last longer than nylon rollers, but there are many higher-cycle rollers. The stronger the roller is, the longer it will last. You can use the roller ratings compared with the size and weight of your door to determine the approximate lifespan of each roller.
How to Maintain Your Garage Door Rollers
To keep your garage door rollers in good shape and running quietly, you should follow these tips:
The smoother and cleaner your tracks are, the less friction and resistance your rollers will encounter. You should inspect your tracks regularly for any dirt, debris, dents, or bends that may affect the movement of your rollers.
Check your rollers regularly for any signs of wear or damage, such as cracks, chips, flat spots, or loose stems. Replace damaged garage door rollers as soon as possible to avoid further damage or injury.

Be extremely careful when working with the bottom fixtures of garage doors, including bottom rollers. Bottom fixtures are under a lot of tension from the cables and can fly up and hit you if you are not careful. It's usually safest to replace the bottom roller with the door open.

Clean your nylon rollers with a soft cloth or brush to remove any dust or dirt that may accumulate on them. Avoid using any harsh chemicals or abrasives, since they may damage the protective coating.
Lubricate your steel rollers every few months to prevent rust and friction. The best product for the job is 40-weight non-detergent oil, which is sold at most auto parts stores. Do not use WD-40 to lubricate your door.

Lubricate the roller stems and bearings of nylon roller.

Adjust your garage door balance and alignment if needed to ensure that your rollers run smoothly and evenly on the tracks.

You can test your garage door balance by disconnecting it from the opener and manually lifting it halfway up. If it stays in place, it is balanced. If it falls down or goes up by itself, it is unbalanced. If your door needs balancing, we have a blog post about how to balance a garage door.
We also sell rollers for Todco and Whiting truck doors.
The first draft of this blog post was written by Microsoft Bing.
This entry was filed under How Garage Doors Work, Products. You can follow any responses to this entry through the RSS 2.0 feed. You can skip to the end and leave a response. Pinging is currently not allowed.
---