Posted May 25th, 2023 at 11:50 am by Philip Kendall
We are excited to announce that the DDM Garage Doors blog is now open for comments. You can share your thoughts, questions and feedback with us and other readers by leaving a comment at the end of each post. We would like to hear from you and help answer any questions you might have.
For a long time, we did not have anyone who could act as moderator for our comments section. As a result, to avoid being overwhelmed by spambots and irrelevant advertisements, we kept the comments section closed. However, now that we have a comment moderator we are opening the DDM blog for comments.
We are always happy to answer your questions or hear suggestions in the comments section. If you need help, we will refer you to our customer service representatives. Usually, the fastest way to get the help you need is to contact us via email or phone. However, leaving a question or suggestion in the comments provides helpful information for future readers of that blog post, either through your suggestion or our response to your question.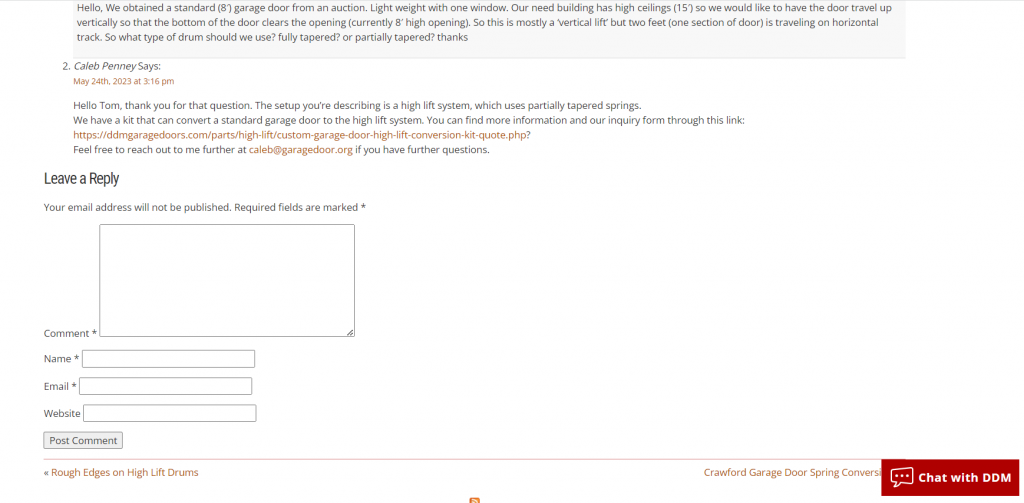 Comment Rules
To comment on our blog, you need to include your name and email address. This helps us prevent spam and keep our comments section safe and friendly. Sharing your email address also allows us to respond promptly to any questions you may have. Your information will not be shared with anyone.
We ask that you follow some simple rules when commenting on our blog:
Be respectful and courteous to others. No personal attacks, insults, harassment or hate speech.
Stay on topic and relevant to the post. No spam, advertising or off-topic comments.
Do not post any personal or sensitive information, such as phone numbers, addresses or passwords.
Do not post any illegal or harmful content, such as links to malware, viruses or pirated software.
We hope you enjoy reading and commenting on our blog, and we look forward to hearing from you soon.
The first draft of this blog post was written by Microsoft Bing.
This entry was filed under About DDM, News. You can follow any responses to this entry through the RSS 2.0 feed. You can skip to the end and leave a response. Pinging is currently not allowed.
---