Posted April 14th, 2018 at 3:13 pm by Dan Musick
Over the years manufacturers have sought to build more safety into their products. In addition to warning labels, garage door manufacturers often powder coat products with red paint to alert technicians of potential danger.
Probably the most dangerous component is the winding cone on a garage door torsion spring. Many people have been injured by these because they did not have the correct information to do the work. Painting the heads of the set screws has helped prevent many injuries.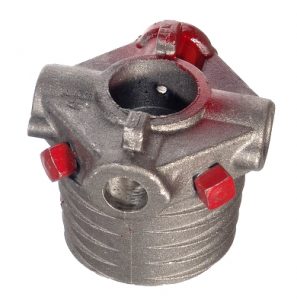 All the new Cable Drums come standard with the red set screws. Loosening setscrews on a cable drum can be extremely dangerous.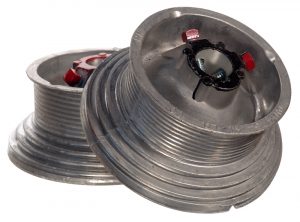 Manufacturers are also powder coating their spring anchor brackets red. I once fixed a door for a man who loosened one of these brackets because the wood to which it was attached was splitting. The bracket spun around numerous times, breaking his arm in 14 places and he almost died. He was in the hospital for a month.  Here is Raynor's new residential bracket.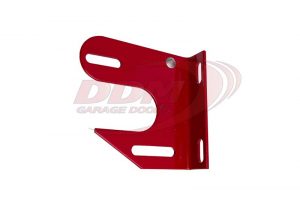 Raynor's earlier commercial and industrial brackets were galvanized and silver colored, as you see in this older bracket.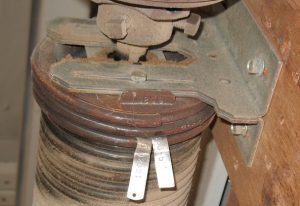 The new Raynor Spring Anchor Brackets are red, and also longer on the bottom to provide for more torque on the springs.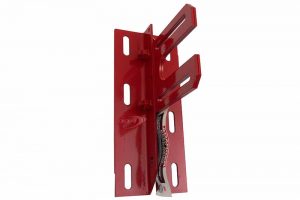 Spring tension is transferred from the winding cone to the shaft, to the cable drum on each side, and down to the bottom of the door where the cable is attached to the bottom fixture, as you can see on this CHI garage door.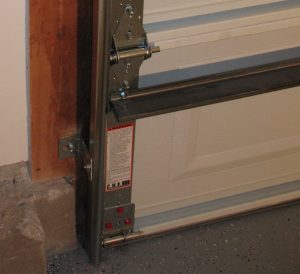 Because of the tension on the bottom fixture, removing the fixture without first removing the tension is extremely dangerous. One of my customers removed one of these and I think the doctor sewed up his head with about fifteen stitches.
Garage door work is dangerous, and we are thankful to all who are doing their part to make it safer.
This entry was filed under Another Way to Replace Garage Door Cables. You can follow any responses to this entry through the RSS 2.0 feed.
---