Posted May 26th, 2017 at 1:00 pm by Sales Team
Not So Great News! Pinch-proof Hinges Update of the Earlier Update, Revised on March 6, 2018.
It appears that there has been a change of plans at Clopay. Latest word is that the pinch-proof hinges are no longer available.
As a result, we are running out the inventories. If anything changes we will post the information here and on our Clopay pinch-proof hinges and parts page.
__________________
Yesterday I was at the Clopay Chicagoland distribution center picking up a shipment of Clopay EZ Set Springs. The warehouse manager informed me of several boxes of Clopay pinch-proof hinges and parts that had arrived at the center. It was like Christmas!
Because of the blog below and on our site many of our customers had been disappointed. We had been telling them the parts would not be available until January of 2018. Well, all the parts are in except for the end hinge pins and the #4 end hinge. And here's another plus: the new hinges are made of the heavier 14 gauge steel instead of the lighter 18 gauge. These should last several times longer.
__________________
From May 26, 2017
Just recently, Clopay stopped manufacturing the hinges for their specially designed Pinch Proof doors. One of the most common models to use Pinch Proof hinges is the model 150S (commonly found in the western U.S.). These pinch proof doors were originally developed in the 1980's to protect against damaging fingers and other foreign objects that could potentially get caught between the door sections. Although some manufacturers had already developed other "Pinch-Proof-type" options, the designers of the Clopay Pinch Proof system sought to create a simpler design that both professional and DIY installers and repairmen can understand. Despite the attempt to develop an option that was both safe and fairly intuitive, these hinges were constructed with cheap steel and have been known to break at a high rate. This is not necessarily the reason why Clopay manufacturers discontinued the part, but it is certainly a disadvantage of the design. Here is a sampling of the Pinchproof hardware: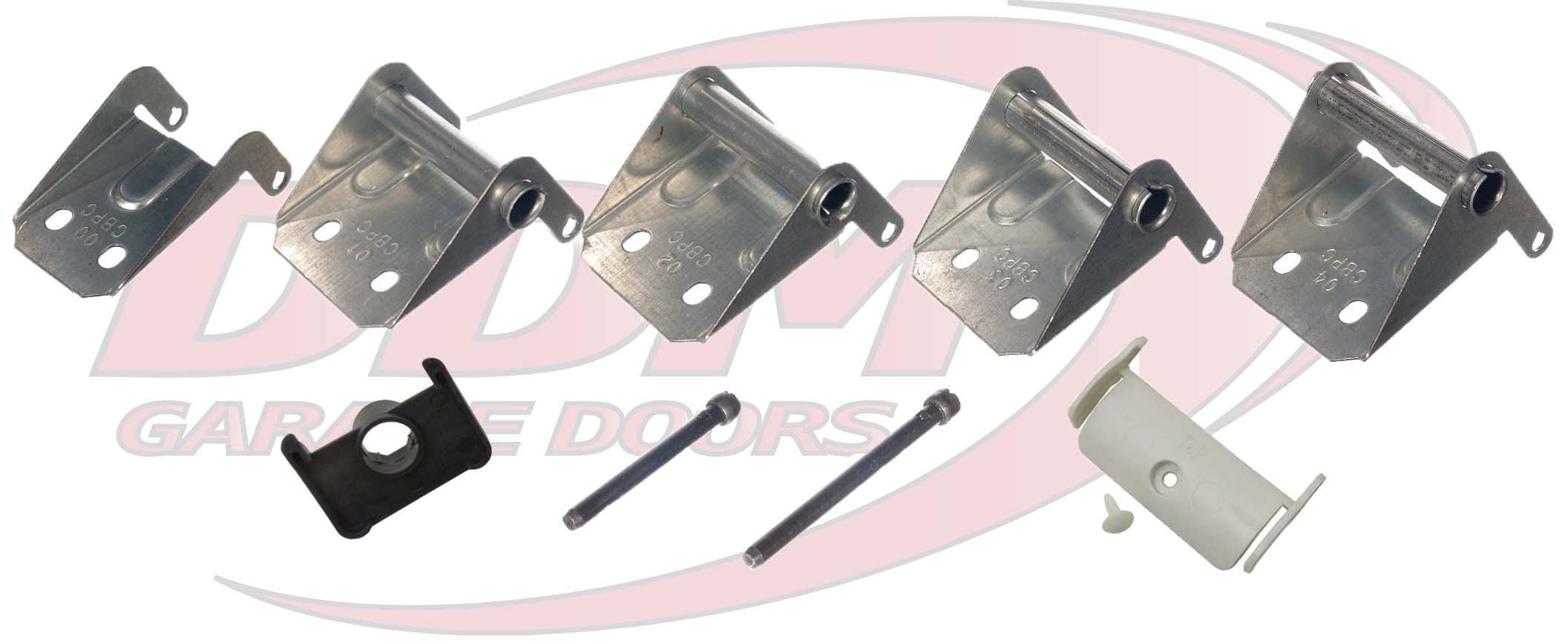 If you have a Pinch Proof door and one of your hinges has broken, you are left with only a few options:
You may be able to find a company that still has these hinges in stock. At DDM, we still have a number of #0 and #4 Pinch Proof hinges in stock, but we no longer have any #1, #2, or #3 hinges. The pins and covers for these hinges are also still available on our website. Because of the nature of the Pinch Proof system, you cannot simply apply one of the standard hinges that we offer. Instead of placing the pivot point directly at the point of separation between the panels, the pivot point of the Pinch Proof hinges are below the point of separation between panels. Refer to the patent drawings below.
You may be able to have a local metal fabrication or machine shop repair the hinge. It may work for a short time, but it will only function as a temporary repair.
Regardless of your initial course of action, you will ultimately be faced with the third option: to purchase a new door. We recommend choosing a door that is designed for and uses standard hardware.
---
Sources below*
---
While specially manufactured systems like the Clopay Pinch Proof doors may provide a number of benefits for customers, this does not make them inherently "better" than doors with standard hardware. Seeing as the parts for these specially designed systems are often not interchangeable with standard hardware, the manufacturers of such parts offer very few options for customers once the parts are discontinued. Although DDM Garage Doors sells specially manufactured parts such as the Clopay Pinchproof, Wayne Dalton, and Amarr hardware, we generally recommend using systems which have standard hardware.
*United States Patent and Trademark Office – U.S. Patent 6,006,817
http://pdfpiw.uspto.gov/.piw?PageNum=5&docid=06006817&IDKey=EEC703709CED&HomeUrl=http%3A%2F%2Fpatft.uspto.gov%2Fnetacgi%2Fnph-Parser%3FSect2%3DPTO1%2526Sect2%3DHITOFF%2526p%3D1%2526u%3D%2Fnetahtml%2FPTO%2Fsearch-bool.html%2526r%3D1%2526f%3DG%2526l%3D50%2526d%3DPALL%2526S1%3D6006817.PN.%2526OS%3DPN%2F6006817%2526RS%3DPN%2F6006817
http://patft.uspto.gov/netacgi/nph-Parser?Sect2=PTO1&Sect2=HITOFF&p=1&u=/netahtml/PTO/search-bool.html&r=1&f=G&l=50&d=PALL&RefSrch=yes&Query=PN/6006817
This entry was filed under News, Technical Support. You can follow any responses to this entry through the RSS 2.0 feed.
---