Posted December 13th, 2016 at 1:53 pm by Dan Musick
Way to go, Neal and Jorie! Congratulations! We wish you all the best as you begin your lives together.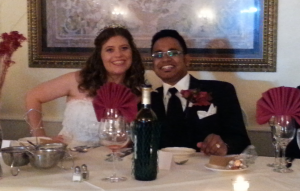 Neal and Jorie, October 21, 2016.
Neal has been a huge help since we were working out of our garage not many years ago; now he has his hands full with a large warehouse full of parts to inventory and ship.
Jorie has helped us part time since September of 2015 as she has finished her education and prepared for her wedding. She's been a tremendous help performing a variety of skills, including the completion of our first employee handbook and helping us set up employee reviews. She's also advised us on a number of other personnel issues.
She's a great worker and she would be a valuable asset for a larger company who can use someone full time with her education and skills. In May of 2016 she received her Master of Arts degree in Industrial/Organizational Psychology from Elmhurst College. You can discover more about Jorie in her resume.
This entry was filed under About DDM, Uncategorized. You can follow any responses to this entry through the RSS 2.0 feed.
---